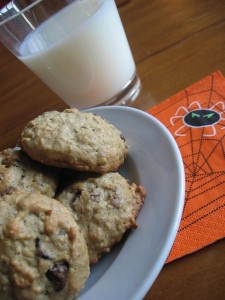 I love my Nana. She is the kindest, sweetest person I know, and I actually have a hard time imagining that kinder, sweeter people even exist! She is a wonderful cook, and passed that skill on to my mom, who in turn passed it on to me. If you're reading this Nana, I love you!
These cookies are a Nana original, and I think at any given moment, Nana probably has a stash of these in her freezer. They are wholesome, spicy little cakes full of chocolate, fruit, and nuts. Perfect for an autumn snack!
Nana's Applesauce Cookies
Here's what Nana says about the cookies. "This recipe I developed with my sister Aunt Minnie's help. I have made these cookies for all these years, and they freeze very well." This is the recipe exactly as Nana typed it. Any changes I made will be noted in green.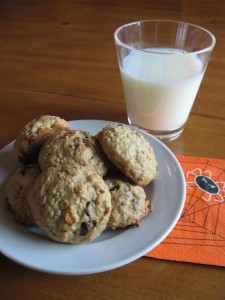 1 1/2 cups shortening (I used 1/2 butter and 1/2 shortening)
2 1/2 cups sugar
4 eggs
4 cups oats
5 cups flour
2 1/2 teaspoons baking powder
1 1/2 teaspoons baking soda
2 teaspoons salt
2 1/2 teaspoons cinnamon
1 1/2 teaspoons ground cloves
1 1/2 teaspoons nutmeg
2 1/2 cups applesauce
1 package chocolate chips
1 1/2 cups raisins
1 1/2 cups chopped walnuts or pecans
Cream the shortening; Add the sugar, eggs, and oats. Combine dry ingredients; add to creamed ingredients, alternating with the applesauce. Add chocolate chips, raisins, and nuts. This makes about 125 cookies (I halved the recipe and got almost 4 dozen). Bake in 400 degree oven for 15 to 20 minutes until brown. My mom and I often talk about the differences between old recipes and new recipes. One major difference that we've noticed is the baking time. They must have really liked their cookies well done! I baked mine for 10-12 minutes, until they were just beginning to brown around the edges. Also, I didn't know if I should grease the pan or not, so I went the safe route and lined my pans with parchment paper.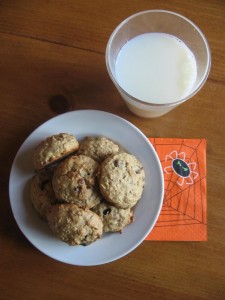 And I've had a lovely response to the Brown Paper Package Exchange sign-ups, but I think I speak for everyone involved when I say we'd love to have more people! I tried to make it fun and bakey and crafty, but still doable! Sign up today; we'd love to have you!