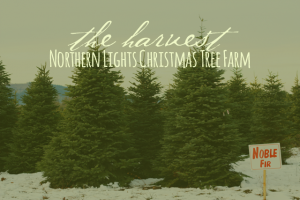 One of my favorite things about the part of the world my family has chosen to call home is the enormous bounty all around us. Our city is surrounded by farms and vineyards, orchards and ranches, and I love that so many members of my generation are rediscovering the land, and learning to take great pride in the arts of tending and tilling. I want to celebrate them as they cultivate, gather, and create. I want to celebrate The Harvest.

Having grown up in the desert, my Christmas tree-choosing experiences as a child revolved around asphalt and grocery store parking lots. There's nothing wrong with that (we certainly enjoyed it every year!), but it is world's apart from the brisk beauty of an Oregon Christmas tree farm. Nestled against the river in the aptly-named hamlet of Pleasant Hill, Oregon, lies just such a magical place, filled to the brim with twinkling lights and Christmas cheer, and stately fir trees stretching to the horizon: Northern Lights Christmas Tree Farm.
Going to Northern Lights to choose a Christmas tree isn't like stopping by a little pop-up shop on the side of the road. It is a completely delightful, immersive experience. Driving onto the property past the old, red barn and the cozy henhouse, you might have to stop to let some ducks waddle across the road on your way to the parking lot. When you arrive, you'll be greeted by a cluster of wooden buildings, all draped in fresh greenery, garland, and christmas lights: a tiny wreath shop where you can watch as they make holiday wreaths with fresh boughs and foraged pine cones, and a tall, beautiful gift shop filled with Christmas decorations, books, and hot chocolate. There's a small stand of trees between the shops. Each tree is a different variety, and each has a little chalkboard sign hanging from a branch declaring what type of tree it is and how much it costs. The chalkboards are framed in red and hung with red and white gingham ribbon; everything about Northern Lights is charming.
When you've decided which of the six types of tree you want, you grab a saw from the rows upon rows of saws hanging from one of the outbuilding walls, and wait for your tractor-drawn hayride; each tractor goes to a different part of the 162-acre farm where a different type of tree grows. My little family loves to wander through the stand of trees, on the hunt for the perfect Christmas Tree. Everyone finds their favorite, some tall and stately, some short and lush and perfectly symmetrical. When you've finally narrowed down the field and found your one perfect tree, you get down on your hands and knees and saw that tree down like a good, old-fashioned lumberjack! It's quite a spectacle to watch those giants fall, and luckily, we usually have the foresight to have brought along a Grandpa or an Uncle to help fell the tree and carry it back to the tractor.
Northern Lights tree farm has been delighting Oregonians young and old since it was established in 1986. After retiring, Lynn and Bob Schutte moved from Alaska to start selling Christmas trees full-time. They've since expanded the charm and fun of Northern Lights beyond the Christmas season; there is something wonderful all year. In addition to selling Christmas Trees in the winter months, they host weddings in the Spring and Summer, and spend October knee-deep in Colonial Harvest Days, a field-trip friendly festival featuring a life-sized Mayflower replica made of hay, prize-winning giant pumpkins, pie-eating contests, and a pumpkin-flinging trebuchet. The Schuttes also raise beef cows, heritage-breed turkeys, and both stewing and roasting chickens that they sell at local markets. But the star of the show will always be the Christmas Trees!
For me, the holiday season isn't complete without a trip to Northern Lights Christmas Tree Farm. From the cozy gift shop filled with Christmas decor to the freshly steamed hot chocolate, from the aromatic wreaths and garland to the acres and acres of fresh, green fir trees, it is a delightfully charming dose of merriment and Christmas cheer.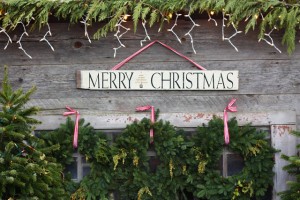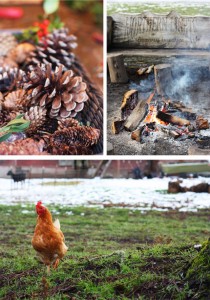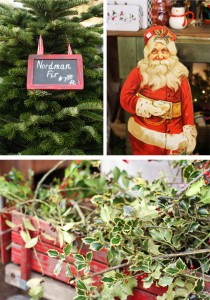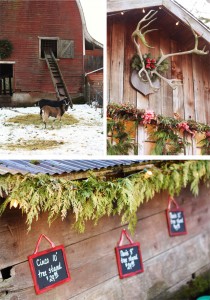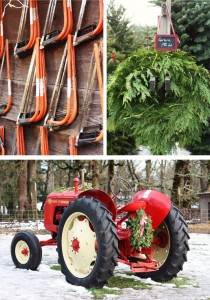 Many thanks to Bob and Lynn Schutte for running such a sweet farm and for helping to create magical holiday memories. And for letting me pester them with questions.