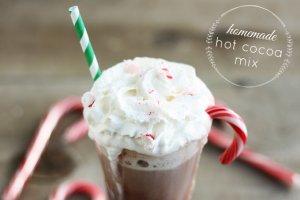 One of my favorite things about cold weather is the abundance of hot cocoa–it's my favorite way to end a winter day! When I was little, I remember we had a huge jar that we kept homemade hot cocoa mix in. This year, I dusted off that old family recipe and made some for my family, and they love it just as much as I did! It's perfect to keep on hand for those cocoa cravings, and makes a great last-minute holiday gift!
You can find the full recipe on my latest post for The Font Feast on Ciera Design.
Merry Christmas and Happy Holidays, everyone! I'm so grateful for every single person that stops by, leaves a friendly comment, or says hi. I hope you have a wonderful holiday week full of peace, joy, and love.
*Green striped straw courtesy of Lemon Drop Shop!