With Valentine's Day just around the corner, I had given up hope of making any kind of cute Valentine's decor this year. Somehow, holidays and important occasions always have a way of sneaking up on me! But as I was laying on the couch watch The Amazing Spiderman on Friday night, this super quick, super easy, super adorable washi tape heart garland popped into my head. Yes, that's what I do when watching blockbusters–brainstorm! With just a handful of common craft supplies and about 15 minutes, you can make this sweet little bit of Valentine's decor that is cute enough to stay up all year!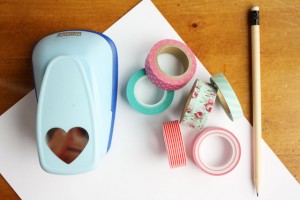 cardstock
several rolls of washi tape in coordinating colors
a heart-shaped paper punch
sewing machine
optional materials: pencil, ruler, scissors

1. Figure out how many rows of hearts will fit on your paper. You can get out a ruler and measure and do a little math, but that seemed like too much work! Instead, I punched a heart out of scrap paper, laid it on my cardstock, and used a pencil to mark off the rows.
2. Place a piece of washi tape across the middle of each row on your cardstock.
3. With the punch facing up so that you can see where you're punching, punch hearts out of the washi tape-covered cardstock.
4. Use your sewing machine to sew the hearts together to make a garland. Lay your little pile of hearts next to your sewing machine. Sew across the first heart, stopping at the edge. Push the next heart right up against the first heart and continue sewing. Repeat until all of your hearts are used up.* If you leave enough thread at the beginning and end of your garland, you can use that thread to hang it. Otherwise, more washi tape does the trick!
*If you sew straight across the middle of the hearts, they won't hang upright; they'll spin and twist and look jumbled. If you sew just above the middle, or anywhere between the middle and the top, they won't give you any trouble.