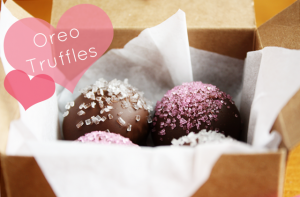 I've been so excited to re-post the recipe for these yummy Oreo Truffles from a few years ago that I haven't bothered to come up with any clever little story about them. But here's what I do know: they are really good in that, "Oh, these must be soooo bad for me!" kind of way; they only have 3 ingredients (not counting sprinkles, but since when do sprinkles count as bona fide ingredients?), so they are really easy too; and if you make them for your friends and family, they will luuuuurv you forever. Like, forever forever.
from my cousin, Wendy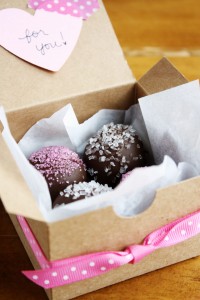 1 14.3-oz package regular Oreos (about 36 Oreos, and not double-stuffed or, heaven forbid, mega-stuffed!)
1 8-oz brick cream cheese, at room temperature
1 lb milk or dark chocolate, chopped into small pieces (I used 2 of the 7-oz cups of Baker's Dipping Chocolate. It melts nicely and comes ready to pop into the microwave.)
Place all Oreos in a food processor; process until Oreos are finely ground. Cut the cream cheese into 3 or 4 big chunks, add to food processor, and process until all of the cream cheese is mixed in. The mixture should be a smooth, shiny, black paste. Scrape into a medium bowl, cover with plastic wrap, and put in the freezer for 30 minutes to set up.
Line a cookie sheet with waxed paper. Remove the Oreo paste from the freezer. Scoop mixture and roll into balls about 1″ across. Lay the Oreo balls on the prepared cookie sheet, and put the cookie sheet in the freezer for 1 hour, until the Oreo balls are firm.
Place the chocolate pieces in a medium, microwave-safe bowl, and microwave, stirring every 30 seconds, until melted and smooth. Remove the Oreo balls from the freezer. Drop 1 Oreo ball into the melted chocolate and use a spoon to make sure it is completely covered. Gently scoop the truffle out with a fork, letting any excess chocolate drip back into the bowl, and place the truffle back onto the waxed paper. Repeat with remaining Oreo balls. When all truffles have been dipped, place the cookie sheet back in the freezer or the refrigerator until the chocolate has set up. Makes about 4 dozen truffles; store in refrigerator.