This recipe for pesto & sun-dried tomato crostini uses a few simple ingredients to make an easy, festive, and delicious holiday appetizer.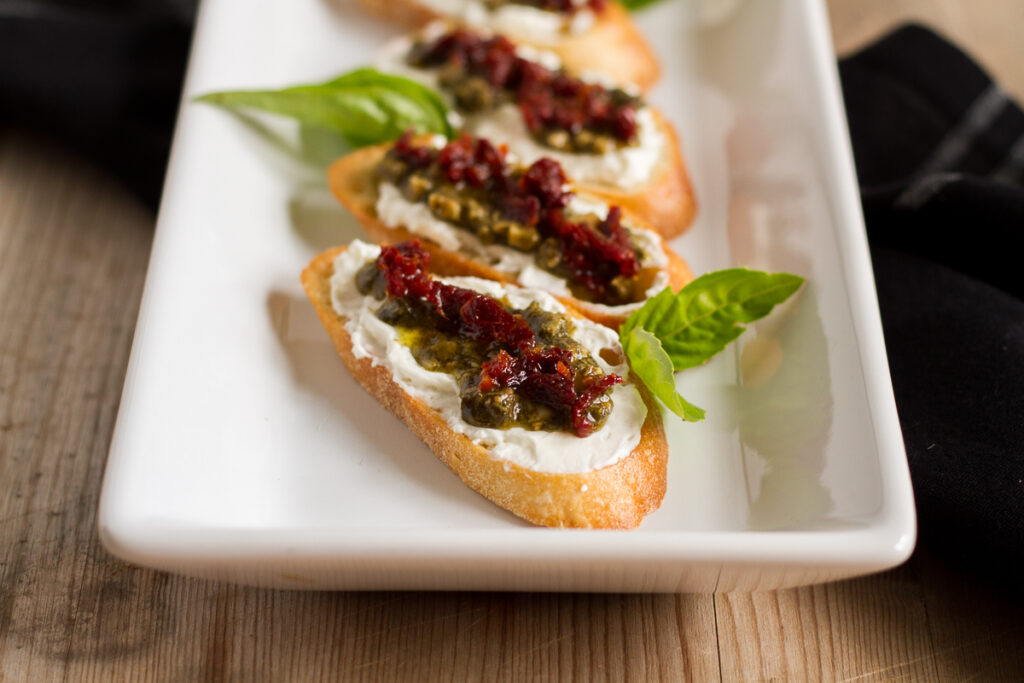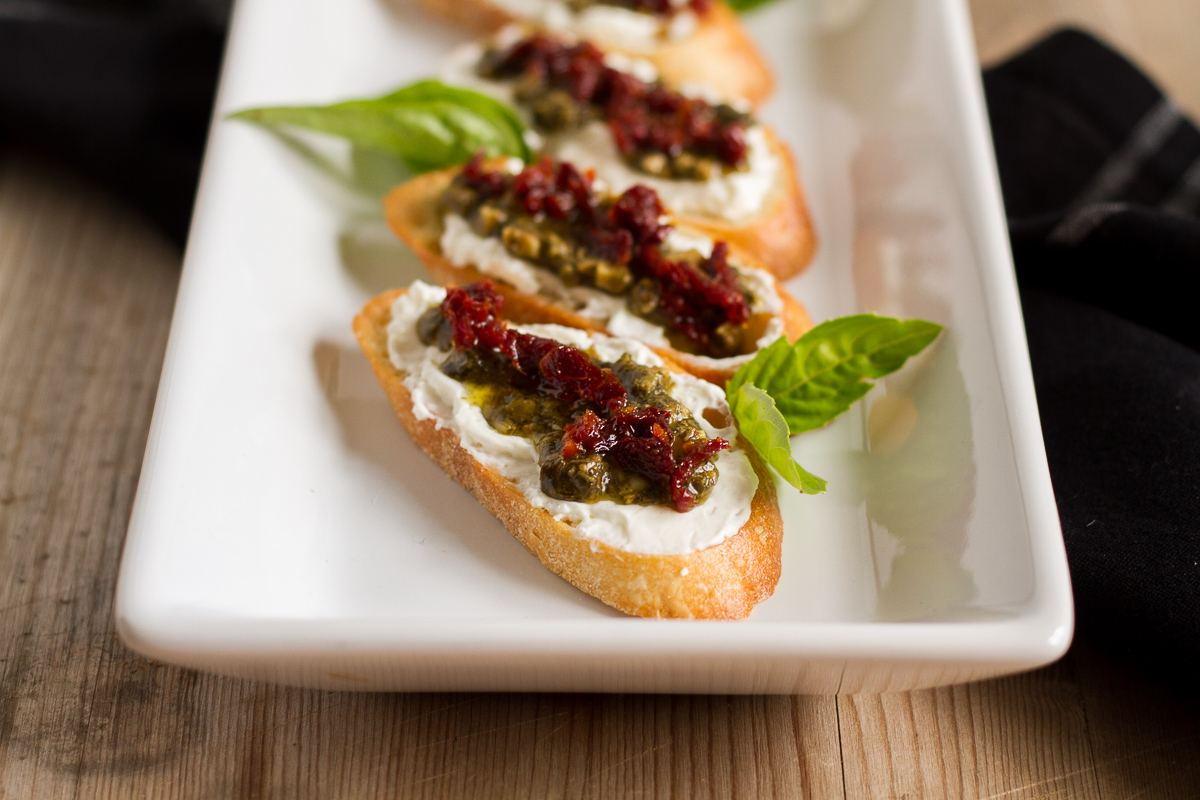 This post has been sponsored by La Brea Bakery. All thoughts and opinions are my own.
Many years ago, I took a grab-and-go appetizer from the store to a holiday party. The flavors were delicious and the colors were beautiful–and I've been dreaming of recreating that same combination of flavors and colors ever since!
Thanks to a few simple ingredients from Albertsons—ready-made pesto, sun-dried tomatoes, cream cheese, and La Brea Bakery French Baguette–I finally did it! And the results were every bit as mouthwatering as I remember.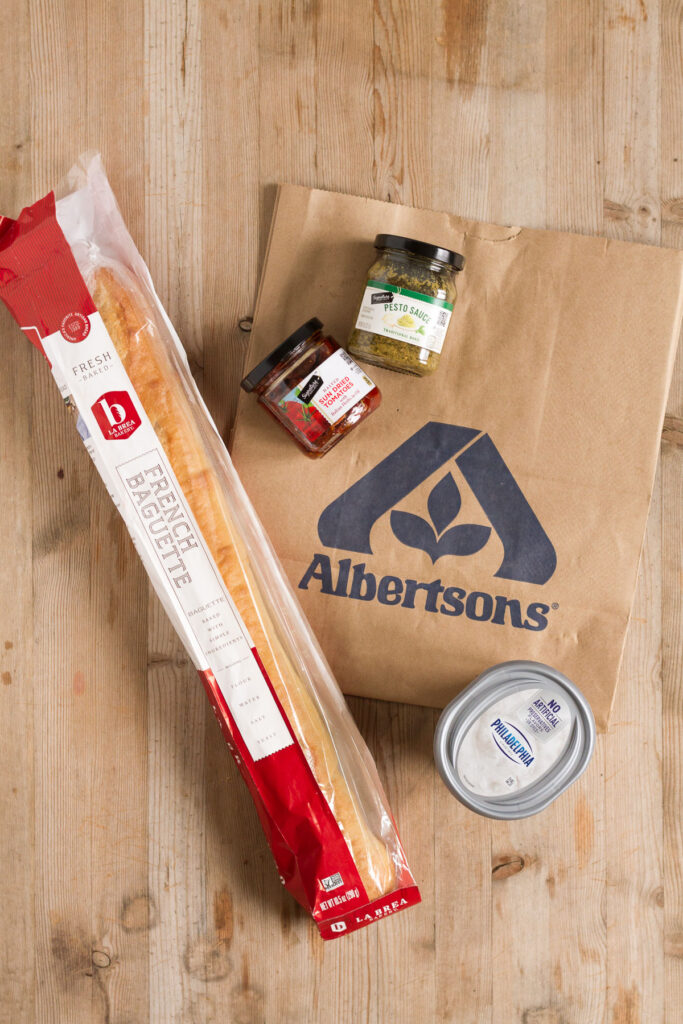 These pesto and sun-dried tomato crostini are super simple to make. First, cut your baguette into 1/4″ slices, brush them with olive oil, and crisp them up in the oven. When they are done toasting, but still hot, rub the crostini with a raw garlic clove. It might sound strange, but doing this gives each slice of baguette a yummy, mellow garlic flavor. The toasted, crusty surface of the bread acts like a tiny grater, and the heat from the still-warm bread takes any harshness out of the flavor of the garlic.
When the crostini are cool, top them with a swipe of cream cheese, a drizzle of pesto, and a sprinkling of finely minced sun-dried tomato. That's it! Your crostini are ready to eat. And eat. And eat!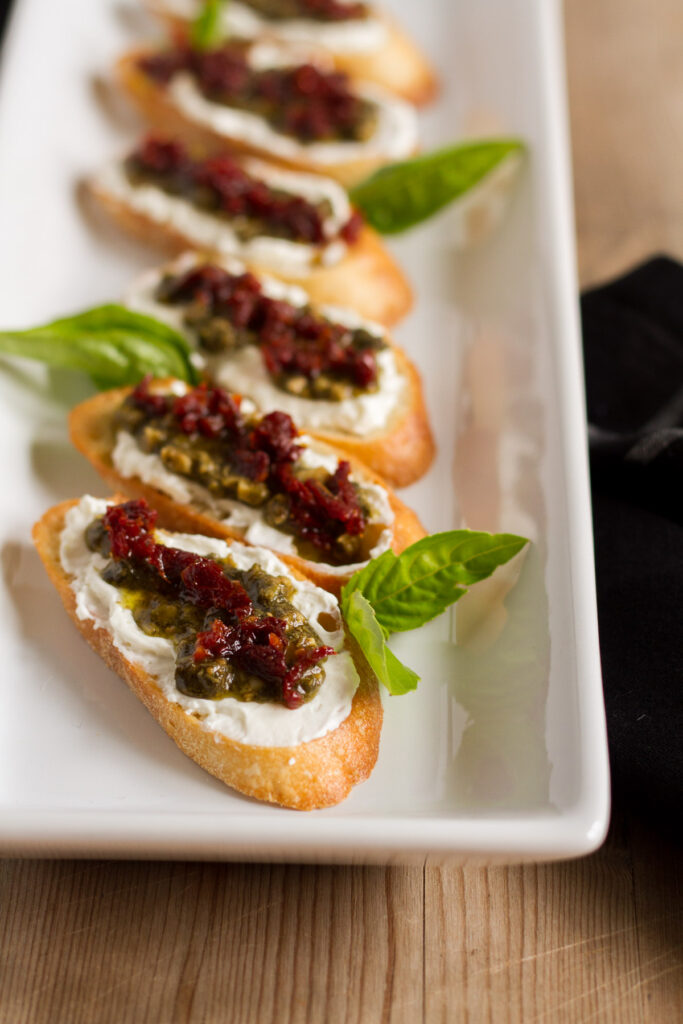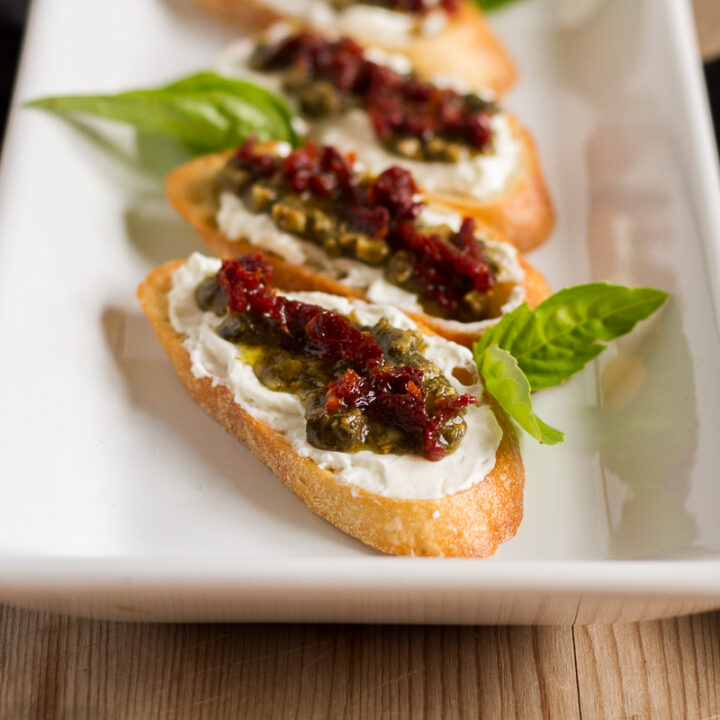 Holiday Pesto & Sun-dried Tomato Crostini
Cook Time:
9 minutes
8 seconds
Total Time:
19 minutes
8 seconds
This recipe for pesto & sun-dried tomato crostini uses a few simple ingredients to make an easy, festive, and delicious holiday appetizer.
Ingredients
1 La Brea Bakery French Baguette
extra-virgin olive oil
2-3 large cloves garlic
cream cheese
pesto
finely minced sun-dried tomatoes
Instructions
Preheat the oven to 400°F.
Cut the baguette on the bias into 1/4" slices. You should get about 24 slices. Generously brush one side of each baguette slice with extra-virgin olive oil, and place slices oil-side up on a large baking sheet. Toast the baguette slices for 8-9 minutes.
When the baguette slices have cooled just enough that you can touch them without burning yourself, rub the top of each slice with garlic. You won't be able to see that anything is happening, but tiny bits of garlic will rub off on the crispy bread, and eventually, the garlic will get smaller. Allow the garlic-rubbed crostini to cool completely.
Top each crostini with cream cheese, then pesto, then sun-dried tomatoes. Serve immediately.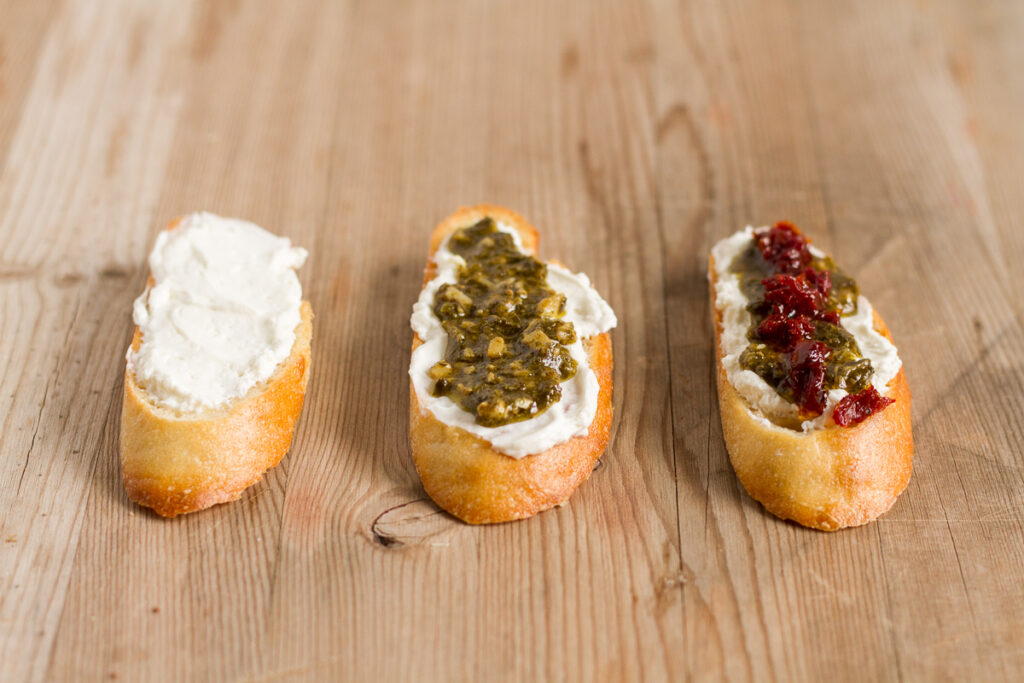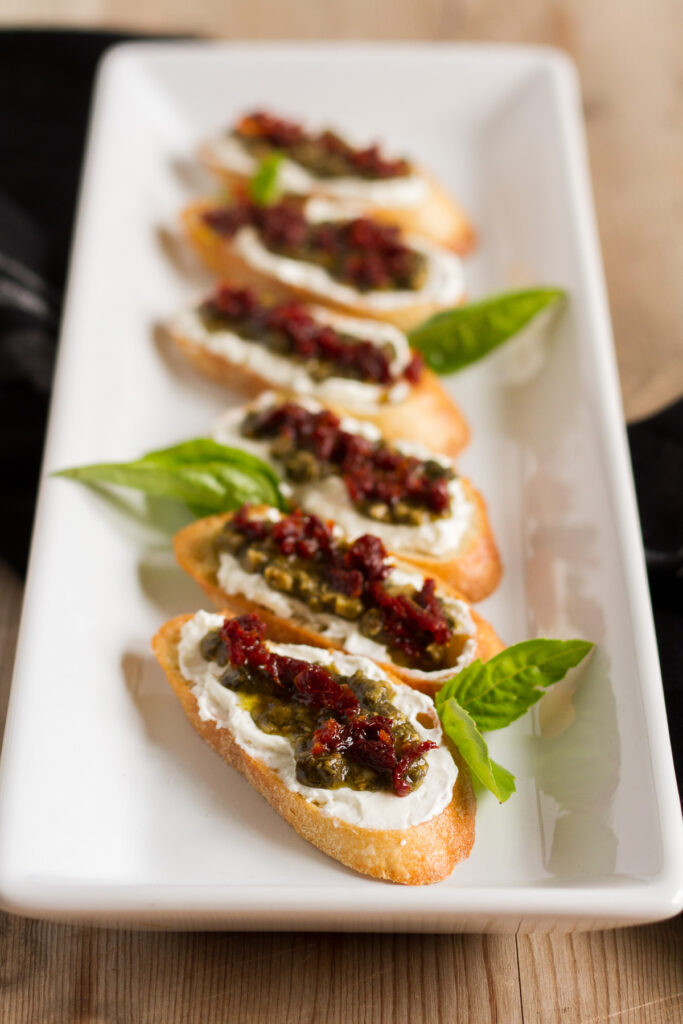 My family loves La Brea Bakery French Baguettes so much. In the time between buying it at Albertsons and taking pictures of it later that day, my kids asked me at least a dozen times if they could eat this one. As soon as I was done taking pictures, they polished the entire baguette off before the afternoon was over!
We all love that La Brea Bakery uses the finest, pure and simple ingredients that are responsibly sourced and GMO-free. My family also loves the crunchy golden crust, the soft inside, and the fresh-baked aroma.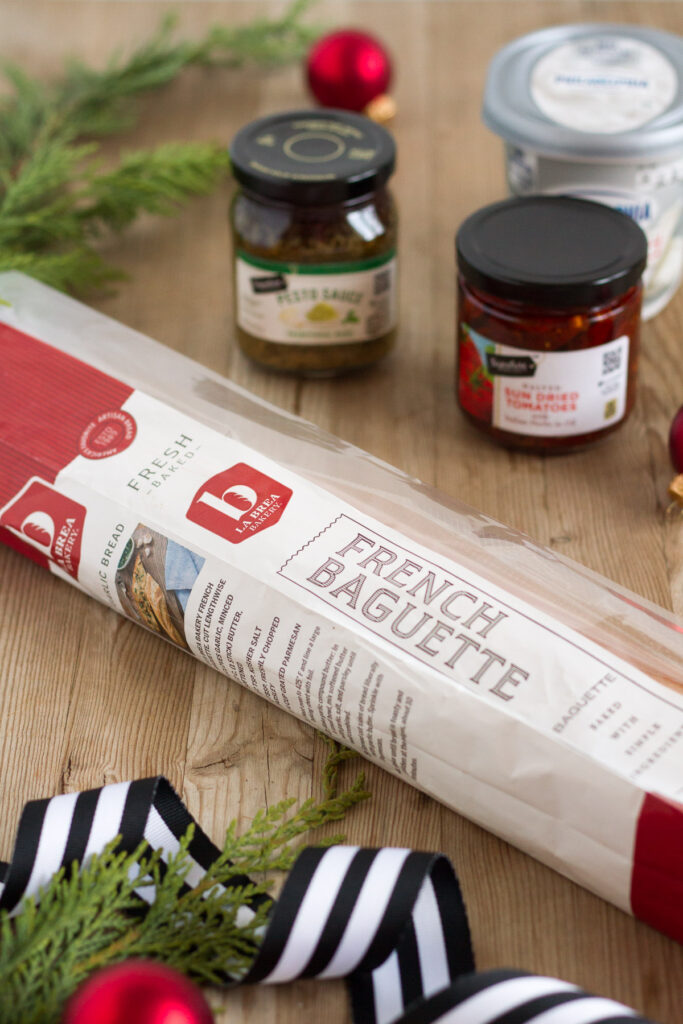 You can purchase all of the ingredients to make these yummy holiday crostini at your local Albertsons, including the La Brea Bakery French Baguette in the bakery section. You can also use the Albertsons Delivery & PickUp App to order groceries for delivery or parking lot pick up. And there's a coupon you can use right now to save on La Brea Bakery breads.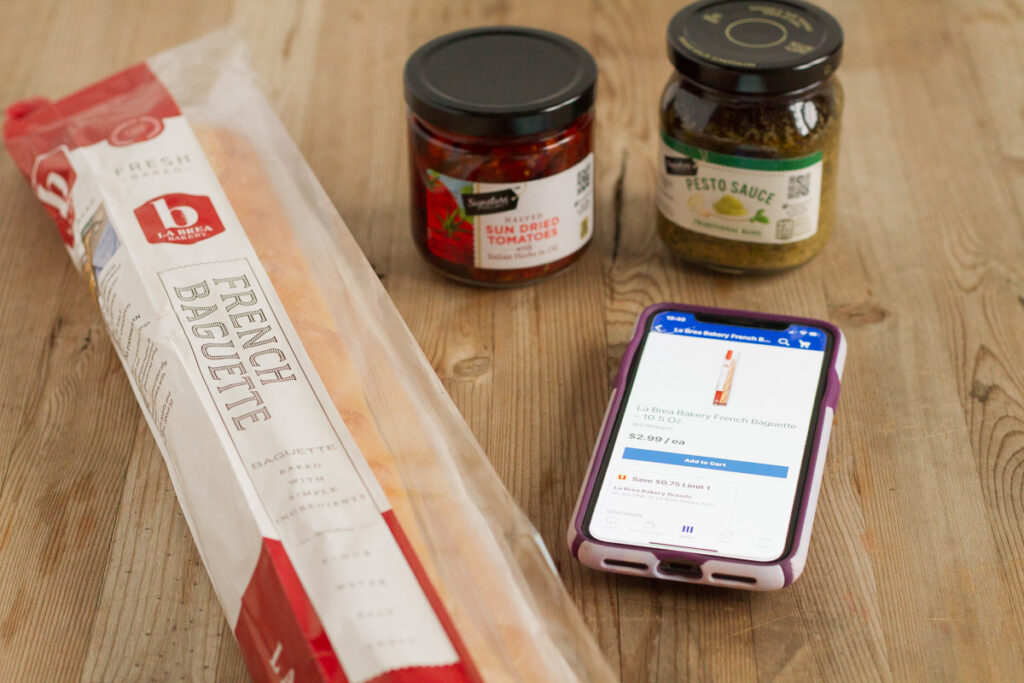 And I have a fun bonus idea for you. Since there might not be as many holiday parties as usual this year, and fewer opportunities to make appetizers for a crowd, this recipe makes a great gift basket! Just buy all of the ingredients, package them up in a cute basket or bag with some festive ribbon, attach the recipe, and drop it off at your friends' or neighbors' house!