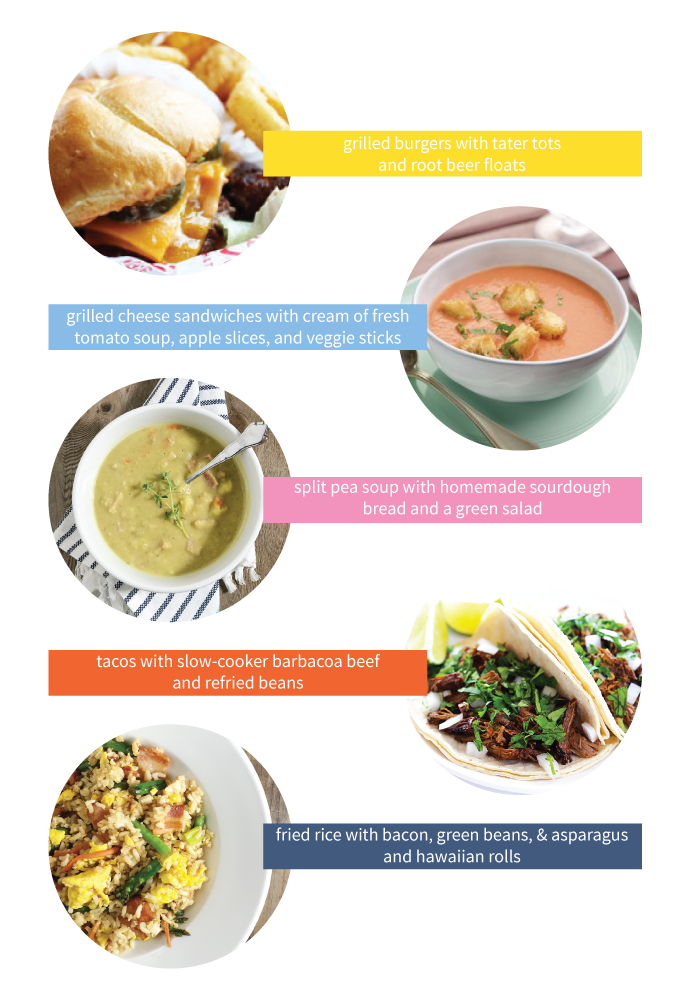 I hope you are all having a wonderful weekend. We picked up new bees for our beehives, got quite a bit of landscaping done in the front yard, and had huge loads of soil and bark mulch delivered to our house. All exciting things! And we've had beautiful weather, which is nice considering the cold wind and heavy rain we had earlier in the week. Without further ado, here are this week's menu ideas—5 quick and easy, family-friendly weeknight dinner ideas to help you plan your menu next week…
Grilled Burgers with Tater Tots and Root Beer Floats:
We usually reserve a dinner like this for the weekend, or at least for a Friday, but we had all of the things to make burgers, tater tots, and root beer floats on Monday, and the weather was so beautiful that we decided to just go for it. And it was delicious!
Grilled Cheese Sandwiches with Ina Garten's Cream of Fresh Tomato Soup, Apple Slices, and Veggie Sticks:
Last Tuesday was National Grilled Cheese Sandwich Day! We did something a little fun this time and bought a bunch of different cheeses for our sandwiches: havarti, smoked provolone, white cheddar with garlic, our usual medium cheddar. The results were delicious! I love Ina Garten's recipe for Cream of Fresh Tomato Soup, and we hadn't had it in a long time, so that's what I made to go with our sandwiches. But it's a little bit of an involved recipe. If you want tomato soup and grilled cheese for dinner and can't invest the time in Ina's recipe, this is another one of our favorites, and is perfect for busy nights—it's ready in under 10 minutes. [photo from Food Network]
Split Pea Soup with Homemade Sourdough Bread and a Green Salad:
This split pea soup recipe is perfect for cool Spring nights. It takes a little time to make, but you basically dump half of the ingredients in a pot, let them simmer, then dump the rest of the ingredients in a let them simmer again. As long as you plan ahead, it isn't a lot of work. You will have to wait to get the recipe, however, since it's in my new book, Scandinavian Gatherings! The book is available for pre-order right now, and this post has a list of online booksellers where you can order your copy. We had our soup with my husband's homemade sourdough and a big green salad.
Tacos with Slow-Cooker Barbacoa Beef and Refried Beans:
Our oldest daughter requested shredded beef tacos last week, so I looked through all of the taco recipes I've pinned on Pinterest, and found this gem from Gimme Some Oven. It was really easy to make first thing in the morning, and then all I had to do at dinner time was shred the beef and get out toppings. And the barbacoa beef was amazing!! It got two enthusiastic thumbs up from the whole family, and will probably be our go-to shredded beef taco recipe from now on. I changed it up very slightly from the instructions on Gimme Some Oven by combining everything except the beef and the bay leaves in a blender and making a smooth sauce. It was so easy and so good. [photo from Gimme Some Oven]
Fried Rice with Bacon, Green Beans, & Asparagus and Hawaiian Rolls:
My kids love this fried rice and ask for it all the time! It's an old family recipe from my husband, and it super easy and super tasty. Here's how you make it: Step 1) Cook some rice. If you have leftover rice in the fridge, that's even better. Step 2) Cook up some chopped bacon in a big skillet or wok. When the bacon is done, put it on a paper towel to drain, and wipe out the pan. Step 3) Scramble some eggs in the pan, then set those aside too. Step 4) Saute some chopped veggies in a little olive oil in the same pan until tender. We used green onions, shredded carrots, green beans, and asparagus. Step 5) Combine everything in the pan, season with salt, pepper, and soy sauce, and cook until heated through.
If you need even more great menu ideas for easy, family-friendly dinners, you can find my other menu idea posts HERE, and I'll be back later in the week with our new favorite chocolate cupcake recipe and some fun kids' party ideas. Happy planning!