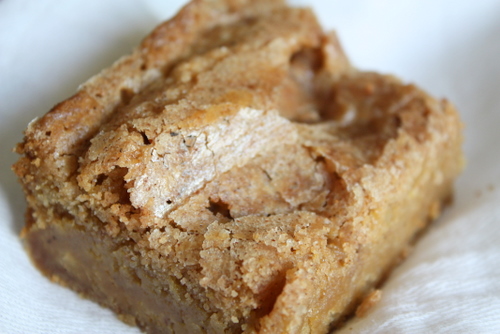 For the past few years, I have been the Sunday School teacher for the 8-year-olds at church. On the first Sunday of the new year, when I have all of my new little ones in front of me, the first thing I do is ask them what treat they want me to bring to class for their birthday. The requests have been all over the place, everything from chocolate chip cookies and rice krispie treats to homemade lollipops and monkey bread. The monkey bread was a bit of a logistical nightmare last month since everyone likes warm monkey bread but Sunday School is at least an hour into church, and it's super messy, and then the birthday boy wasn't even there. I felt bad that we ate his birthday treat without him, but I was darned if I was going to make monkey bread twice, so I came up with these cinnamon swirl blondies to bring the next week to make up for it (I figured they'd be an OK substitute because they have vaguely the same flavor profile:  butter, cinnamon, and sugar!) They were delicious! I admit that I ate 3 of them. Out of a batch of 12. And I would have eaten more if there had been more!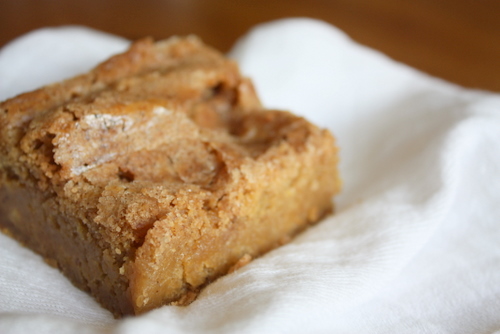 Cinnamon Swirl Blondies
Delicious, buttery blondies with a tasty cinnamon sugar swirl!
Ingredients
for the blondies
⅔ cup unsalted butter (although if you prefer your blondies a little salty, use salted butter)
1½ cups flour
1 teaspoon baking powder
½ teaspoon salt
1 cup packed brown sugar
½ cup granulated sugar
2 eggs
2 teaspoons vanilla
1 Tablespoon fresh lemon juice
for the cinnamon swirl
¼ cup butter (1/2 stick)
¼ cup sugar
½ teaspoon cinnamon
Instructions
Preheat the oven to 325 degrees. Grease an 8x8" baking pan.
In a small saucepan, melt the ⅔ cup butter, and let it cook until it is golden brown. Set aside to cool slightly.
In a small bowl, combine flour, baking powder, and salt.
In a large bowl, combine the melted butter, brown sugar, and granulated sugar, and stir until smooth. Add the eggs, vanilla, and lemon juice and mix well. Add the dry ingredients and stir until just combined. Spread the batter in the prepared pan.
In the same saucepan you used to melt the butter for the blondie batter, melt the ¼ cup butter for the cinnamon swirl. Add the sugar and cinnamon and stir to combine. Drizzle the cinnamon sauce over the blondie batter and use a butter knife to swirl it in. Don't bother trying to do a fancy pattern; it just all melts together!
Bake for 35 to 45 minutes, until a toothpick inserted in the center comes out with just a few crumbs on it. Cool completely before serving.
SaveSave