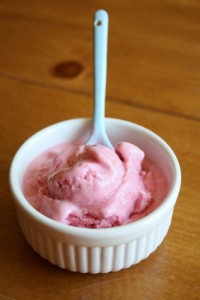 Did you know that July is National Ice Cream Month?! This sweet and tangy raspberry ice cream is the perfect way to start your celebration of frozen treats. And then you can follow it with vanilla, chocolate, strawberry, rocky road, peanut butter cup, butter pecan…I'm thinking we might eat a different flavor every day!

from my little sister's Mother-in-Law, Stephanie
The sour cream in this ice cream makes it deliciously tangy and nicely balances the super-sweetness of the berries.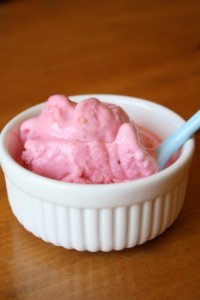 1 lb frozen raspberries
8 oz sour cream
2 1/2 cups sugar
1 quart half-and-half
juice of 1 1/2 lemons
Combine raspberries, sour cream, and sugar in a food processor or blender and puree. Add pureed ingredients to half-and-half and lemon juice in a large bowl or pitcher and stir until completely combined. Pour mixture into the canister of an ice cream freezer and freeze according to manufacturer's instructions. Makes about 3 quarts.