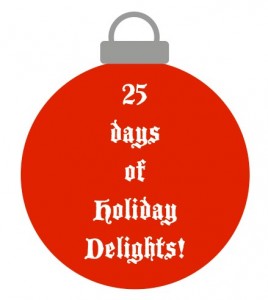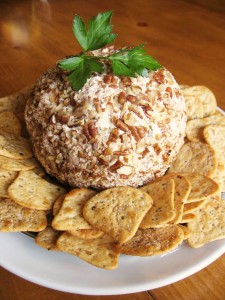 It occurred to me as I was making this for a party this weekend that I've brought it to at least one holiday party a year since we moved here! And it has been a huge hit at every single one. I know there are people out there that aren't fans of the cheeseball, but I have to think that the only kinds they've ever tried are the ones you can buy pre-made from the grocery store. And I don't blame you for not liking them! But homemade cheeseball is so amazing; I dare anyone who tries it to dislike it! This recipe is one of my favorite holiday cheeseball recipes. The flavors of green onion, pineapple, and green bell pepper meld beautifully together and are addicting enough to keep you coming back for more throughout the entire evening!

This time, I served this with Pepperidge Farms Wheat Crisps. They were delicious and had a cute little shape.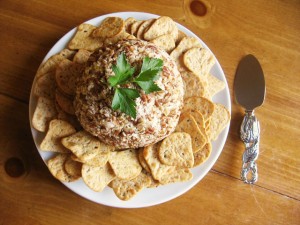 2 8-oz packages cream cheese, slightly softened
1 8-oz can crushed pineapple, well drained
2 Tablespoons finely chopped green onion
1/4 cup finely chopped green bell pepper
1 teaspoon seasoning salt
2 cups chopped pecans, divided
Combine cream cheese, pineapple, green onion, bell pepper, seasoning salt, and 1 cup of pecans in a large bowl. Mix thoroughly. Cover and chill. When the cheese mixture is firm, form the entire mixture into a ball. Roll the ball in the remaining 1 cup of chopped pecans. Wrap tightly in plastic wrap until ready to serve. Serve with your favorite crackers.