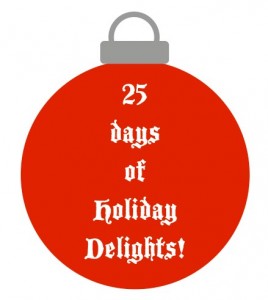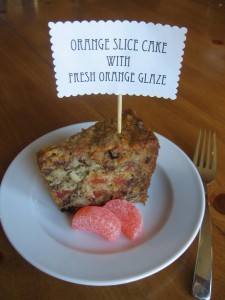 Sorry for missing another day!! To make it up to you, I'm going to share this little holiday food tidbit: Costco has this fantastic triple layer cheese spread that is to die for. It is festively colored (white, green, and red), has layers of cream cheese, pesto, and sun-dried tomatoes, and is just about the most delicious party food ever. Go buy some; your friends will thank you!
Now for today's recipe. I was going to wait to post this, but I don't have anything else ready to post, so this will have to be a few days early. Our Cake Slice Bakers assignment for December is going to be posted on the 20th, but I was disappointed with everyone's choice because the book we're baking from has so many good holiday cake recipes. So in protest, I made a different cake, a holiday cake, a fruitcake no less. And you know what? It was fantastic and I won a Christmas dessert contest with it! Cooking Light Magazine featured a similar recipe on it's December cover several years ago, and I've meant to make it each Christmas since. When I found this recipe in Southern Cakes, I took it as a sign that this was the year of the Orange Slice Cake!
Orange Slice Cake with Orange Glaze
from Southern Cakes by Nancy McDermott
Due to my lack of planning, this cake was served warm at a Christmas party, and I highly recommend it!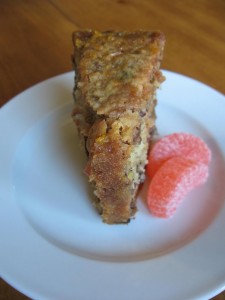 3 3/4 cups flour
1/2 teaspoon salt
1 lb orange slice candy, chopped (about 3 cups)
2 cups chopped pecans
1 8-oz package pitted dates, chopped
1 cup sweetened shredded coconut
1 cup butter, softened
2 cups sugar
4 eggs
1 teaspoon baking soda
1/2 cup buttermilk
Preheat your oven to 300 degrees. Grease a 10″ tube pan, line the bottom with parchment, and grease the paper. Combine flour and salt in a small bowl, and combine orange candies, pecans, dates, and coconut in a large bowl. Toss the candy mixture with about 1/3 of the flour mixture; use your hands to make sure each individual piece is coated with flour. Set aside. In a very large bowl, beat butter and sugar until light and fluffy. Add eggs one at a time, beating after each addition. Stir in half of the remaining flour and mix until just blended. Add the baking soda to the buttermilk and pour half of that into the batter, mixing well. Add the remaining flour, then the remaining buttermilk, mixing after each addition. Add the candy mixture and mix well. I used a wooden spoon at this point; the batter is very thick. Scoop the batter into the prepared pan and bake it at 300 degrees for 1 1/2 to 2 hours, until a skewer poked into the center of the cake comes out clean. While the cake is baking, combine 2 cups powdered sugar, 1 cup orange juice, and 1 Tablespoon orange zest to make a glaze. Pour the glaze over the hot cake; it will soak in while the cake cools. Cool the cake in the pan, then remove it to serve.