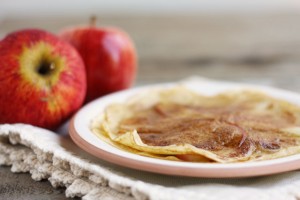 Apple Cinnamon Crepes are one of my very favorite breakfast treats! My husband has been making these since before we met, and they're what I request most often when it's my turn to choose breakfast on the weekend. They are so simple but soooo decadent and dreamy. They are absolutely perfect for the Fall weather that's on its way, but they are a deliciously welcome addition to any breakfast. Or, let's face it, lunch or dinner or dessert or snack-time.
from my husband
We use cinnamon sugar a lot in our house, so we mix up a big batch and keep it in a big shaker, which of course leads to much family happiness. To make your own cinnamon sugar, combine 1 Tablespoon cinnamon for every 1/2 cup granulated sugar.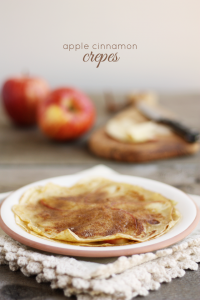 2 eggs
1 1/2 cups whole milk
1 Tablespoon oil
1/2 teaspoon salt
a splash of vanilla
1 cup flour
1 1/2 teaspoons cinnamon sugar
very thinly sliced apples
In a medium bowl, combine eggs, milk, oil, salt, and vanilla. Add flour and cinnamon sugar and whisk until smooth. Spray a crepe pan or large nonstick skillet with nonstick cooking spray and heat over medium heat. Pour 1/4 cup batter onto the center of the pan and gently swirl the pan to spread the batter out into a thin circle. Cover the surface of the crepe with apple slices and allow to cook until golden on the bottom. Using a large spatula, turn the crepe over and continue to cook until golden on both sides. Stack finished crepes on a large plate until ready to serve. Serve topped with butter and more cinnamon sugar.