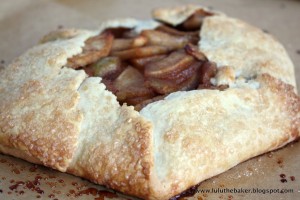 Despite my best efforts, pies give me grief. Every time I think I've totally nailed it, my pie comes out of the oven slumped and sloshy. I try to follow all of the tips and tricks, but I just can't get pies to work for me. That's where galettes come in. A galette is just pie crust slapped on a baking sheet, piled high with fruit filling, and artfully (or not!) folded toward the middle. Galettes are just like pies, only easier, faster, and pretty much fool-proof.
serves 4-6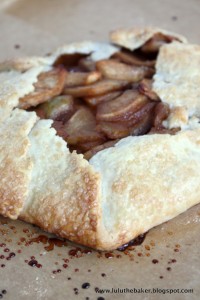 for the crust:
1 1/3 cups flour
1 Tablespoons sugar
1/4 teaspoon salt
5 Tablespoons butter, cut into cubes and frozen
3 Tablespoons vegetable shortening, cut into cubes and frozen
ice water
for the filling:
4 Tablespoons butter
6 Tablespoons brown sugar
4 granny smith apples, peeled, cored, and sliced
1 teaspoon cinnamon
1 teaspoon vanilla
assembling the galette:
1 Tablespoon cream
1 Tablespoon coarse sugar
To make the crust, in the bowl of a food processor, combine flour, sugar, and salt. Add frozen butter and shortening, and pulse until mixture is the texture of gravel, with chunks about the size of peas. Drizzle water into the food processor while pulsing, just until the dough comes together in one big chunk. Remove dough from food processor, shape into a flattened disk about 1 inch thick, and wrap tightly in plastic wrap. Chill for 1 hour.
To make the filling, combine the butter and brown sugar n a large skillet over medium heat. When the mixture is bubbly, add the apples. Cook, stirring frequently, until the apples are just tender. Remove from heat, add cinnamon and vanilla, and allow to cool to room temperature.
Put the oven rack in the lower 1/3 of the oven, and preheat to 400°F. On a well-floured work surface, roll the chilled dough into a big circle 1/8″ thick. The nicer your edges are, the nicer the center of your galette will look. Carefully transfer to a parchment- or silpat-lined baking sheet. Pile the cooled filling in the center of the dough, staying about 2 inches from the edge all around. Fold the extra 2″ edge of the dough over the filling and toward the center all the way around the circle. I just loosely pleated mine, but you can do whatever fancy thing you like! Brush the surface of the dough with cream and sprinkle with sugar. Bake for 30 minutes until the crust is golden.