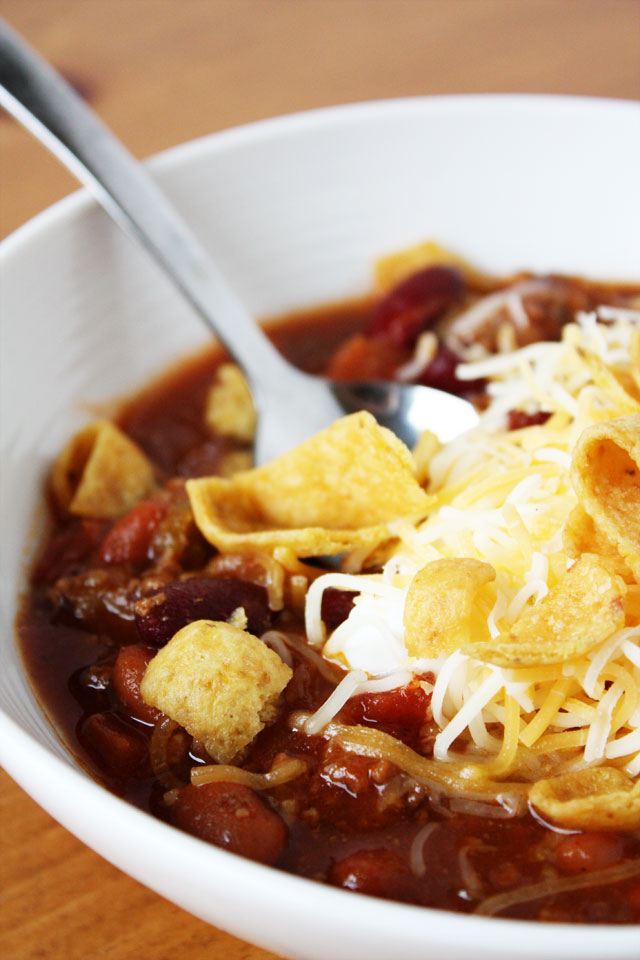 Is it a bad sign that every time I need to spell the word "chili" I have to stop and make sure I'm using the right spelling? Yikes! Anyway, when we were newlyweds, my husband and I had a lot of fun trying to figure out our favorite things. Our favorite ice cream shop, our favorite pizza place, our favorite chili recipe (and no, Nellie Naysayer, that's not nerdy). The one we had the most trouble with was chili, believe it or not. I grew up eating my mom's chili, which is really good. But she doesn't exactly have a recipe for it; it's more of a pinch-of-this-dash-of-that kind of thing, and I have never been able to make it as good as she does. For several years, we thought a slow-cooker version made with beef broth and cornmeal was the ultimate chili recipe, but last time we had it, we kind of looked at each other and decided to keep searching.
One day, while grabbing a bite to eat between grocery shopping and our weekly Home Depot run, my husband was waxing poetic over Wendy's chili. He said it was The Best Chili. I figured if he thought it was the best, we were already halfway to finding the best chili recipe–all we needed was a copycat. We found one in my sister's restaurant copycat cookbook, which happens to be identical to most of the versions I found online, and to the one my Aunt Gigi published in a family reunion cookbook just a few months after my husband's chili epiphany. Apparently, people love the chili at Wendy's! And after one bite, I loved it too. In the years since we made our great chili discovery, this is the only recipe for chili we've used. It is easy and flavorful and delicious, and I usually have all of the ingredients on hand. Our search is officially over!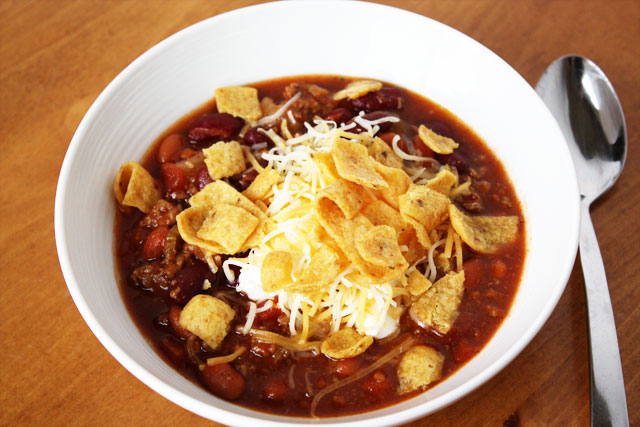 Our Favorite Chili
a copycat version of the chili served at Wendy's
Ingredients
2 lbs ground beef
1 29-oz can tomato sauce
1 29-oz can kidney beans, undrained
1 29-oz can pinto beans, undrained
1 cup diced onion
1 4-oz can diced green chilies
¼ cup diced celery
3 medium tomatoes, chopped
2 teaspoons cumin
2 Tablespoons chili powder
2 teaspoons salt
freshly ground black pepper
2 cups water
Instructions
In the bottom of a large dutch oven, brown the ground beef, and drain off the grease. Add all remaining ingredients.  Bring to a boil, cover, and reduce heat. Simmer for 2-3 hours, stirring ever 15 minutes.
Notes
Even though our family is small, I usually make the whole recipe and freeze the leftovers for future use.

In our family, we serve our chili two different way: Melissa-style is served with shredded cheddar, sour cream, and crushed fritos, while Speedy-style is served with flour tortillas. Tear tortillas in half, shape into cones, and fill with chili--bizarre, right?!