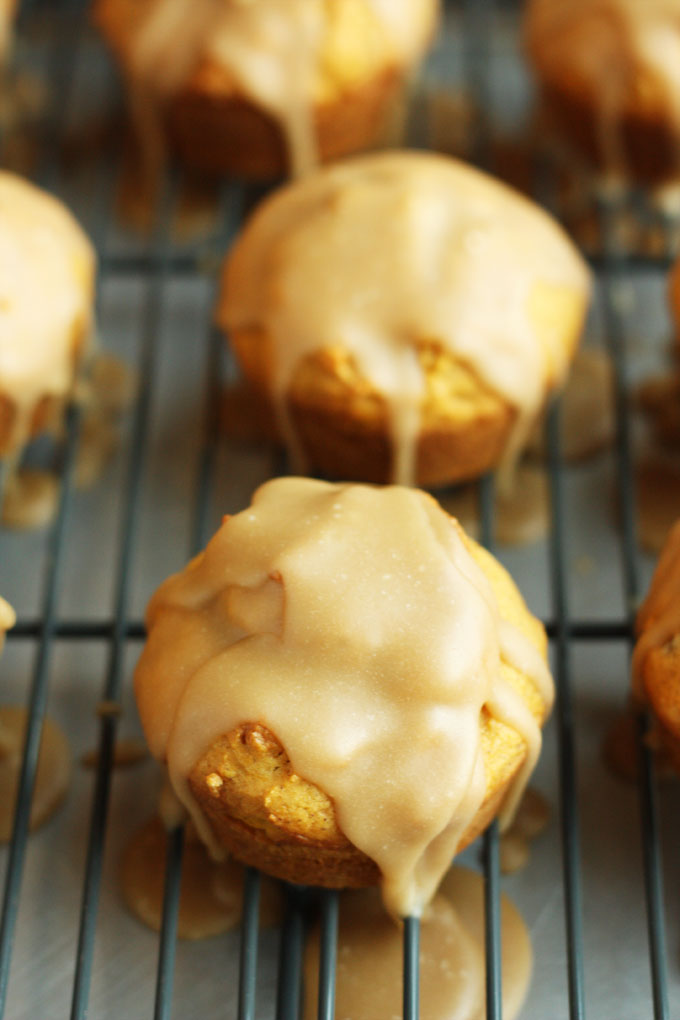 I posted about my sister's delicious recipe for Applesauce Muffins with Caramel Glaze a couple of weeks ago. The muffins are subtly sweet and lightly spiced, with a show-stopping, butterscotchy, brown sugar glaze. They're really amazing and so hard to resist! The last time I made them, it dawned on me that by swapping out the applesauce for pumpkin puree, I could make some pretty killer pumpkin muffins. So I tried it over the weekend, and I was right! Pillow soft, mouth-watering pumpkin muffins with a hint of cinnamon, topped with an insanely tasty caramel glaze. They taste like Fall–delicious, sweet, caramel-flavored Fall. My family loved them and couldn't get enough of them. Even the picky 3 year-old ate them up and clamored for more!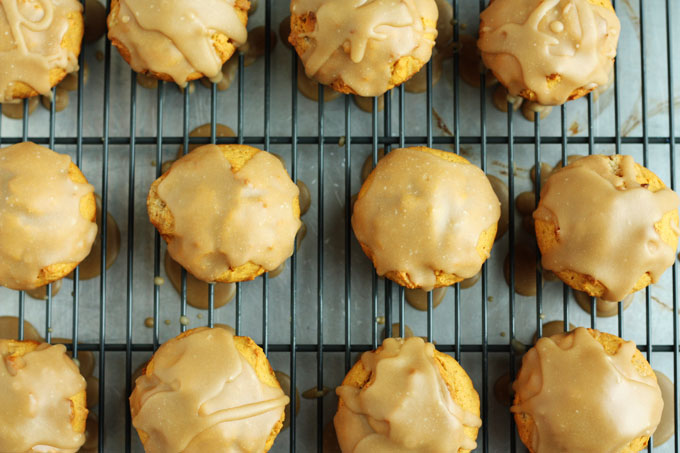 Pumpkin Muffins with Caramel Glaze
Ingredients
for the muffins:
½ cup butter
¾ cup sugar
1 egg
1¾ cups flour
1 teaspoon baking soda
1 teaspoon cinnamon
½ teaspoon salt
1 cup canned pumpkin puree
for the glaze:
2 Tablespoons butter
3 Tablespoons milk
½ cup packed brown sugar
1 cup powdered sugar
½ teaspoon vanilla
Instructions
To make the muffins, preheat the oven to 400°F. Line a 12-cup muffin tin with paper liners or spray with nonstick spray. Cream butter, sugar, and egg in a medium bowl. In a separate bowl, combine flour, baking soda, cinnamon, and salt. Add dry ingredients to the butter mixture, alternating with the pumpkin puree. Mix until just combined. Divide batter evenly among prepared muffin tins. Bake for 18-20 minutes, until a toothpick inserted in the center of a muffin comes out clean. Allow muffins to cool completely before glazing.
To prepare the glaze, combine butter, milk, and brown sugar in a small saucepan over medium heat. Bring to a boil and boil vigorously for 1 minute. Remove from heat and beat in powdered sugar and vanilla. Immediately pour hot glaze over cooled muffins. I used a spoon to pour some glaze on each muffin, but my sister just picks her muffins up and dunks the tops in the glaze. Allow to cool and enjoy!