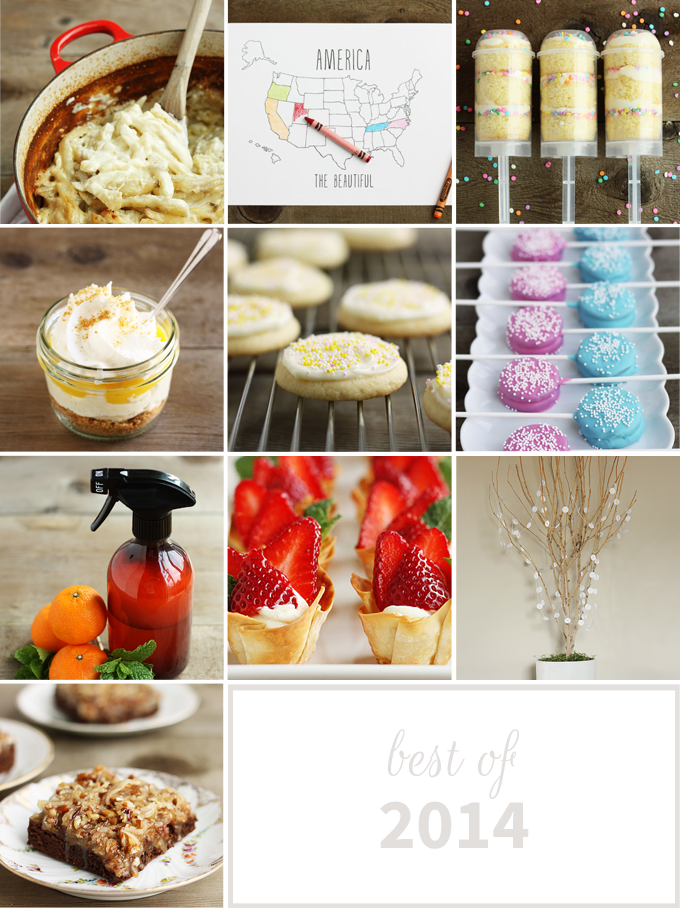 Things have been pretty quiet around here lately! We moved, we had a baby, and the holidays arrived, all in a matter of a few short weeks. And now it's the end of the year! I couldn't leave 2014 behind without looking back on some of the highlights. Here are the top 10 posts of 2014, all total winners in my opinion!
1. Grandma's Cream Potatoes
2. Printable Maps
3. Birthday Cake Push Pops
4. No Bake Lemon Cheesecakes
5. Lemon Sugar Cookies with Lemon Cream Cheese Frosting
6. Pink and Blue Oreo Pops
7. Homemade All-Purpose Cleaning Spray
8. Strawberry Cheesecake Wonton Bites
9. Punched Paper Garland
10. Caramel Coconut Pecan Brownies
A huge thanks to all of the wonderful bloggers and brands I've had the opportunity to collaborate with this year, to everyone who wrote or is going to write a guest post for me, and to everyone who pinned a recipe, left a comment, sent me an email, or connected with me on social media. I love this community and am so glad I get to write in this little corner of the internet. Happy New Year!