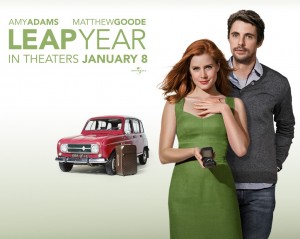 I tried to explain what Leap Day is to my kids last night, and it sounded so magical! Every four years, we get an extra day. Just out of nowhere. Magic, no?
We have absolutely no Leap Day traditions whatsoever in our family. None. Nada. Zilch. But I have a fondness for the movie Leap Year (it is really cute and sweet, and Matthew Goode is rather easy on the eyes AND has a charming accent) and plan to watch it at some point today, maybe in between the lunch meeting I have and making dinner for a sick neighbor, or between that and kindergarten dance lessons, or between that and dropping off the kids at my parents house before heading to another meeting. Maybe they can find an extra hour to give us sometime.
You can read all about Leap Year and the crazy marriage proposal traditions that inspired the movie on Wikipedia. Kind of fun!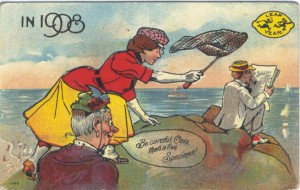 {postcard image from Wikipedia}