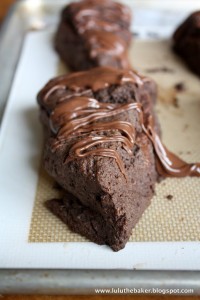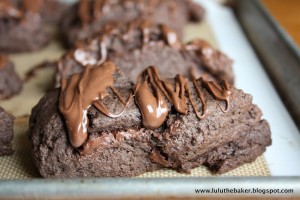 This one is for all you Nutella fans out there: Nutella Scones from Baked Explorations by Matt Lewis and Renato Poliafito. I made these expecting them to taste like giant brownies covered in Nutella, which certainly would have been delicious, but not necessarily appropriate for last week's Saturday morning breakfast for the family. Instead, they were light, flaky, not-too-sweet chocolate scones with a layer of Nutella nestled inside and more Nutella drizzled on top, the perfect partner to a huge glass of ice-cold milk. Like everything else I've made from this fantastic cookbook, they were insanely good.
You can find the recipe, along with some helpful step-by-step photos, at PhDcupcaker, and you can see other club: BAKER member's scones here.
**A quick note: The recipe calls for hazelnuts, which I left out. I just didn't think they'd go over that well with the kids. Or the husband.