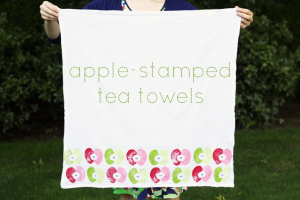 With all of the Fall baking you're going to be doing over the next few months, you're going to need some extra cute kitchen towels to go along with the muffins and cookies and pies and quick breads that you'll be delivering to your friends and family. Using seasonal fruit as stamps makes these apple (and pear!) towels darling and festive.
plain white flour sack towel
I love Target with all my heart, but I used a pack of RE flour sack towels from Target, and they're not very good. They're very thin and wrinkly–even a hot iron and lots of steam couldn't compel them to be wrinkle-free.
a sheet of freezer paper or waxed paper the same width as your tea towel
1 nicely-shaped apple (You can use pears too, but get the firmest, least ripe pears you can find.)
a paring knife
an apple corer or small circular cookie cutter
paper plates or a large scrap of cardboard
fabric paint in 4 colors (2 pairs of coordinating colors, like 2 shades of red and 2 shades of green)
I used Martha Stewart multi-surface satin paints mixed with the tintable fabric medium and really liked it.
black fabric paint
a small paint brush
1. Wash and dry your tea towel. Iron it if you have to to get it nice and flat. Lay it on a large, clean work surface, with the sheet of paper under it to protect your work surface from paint.
2. Cut the apple into quarters. First cut it in half, then cut each half in half again. Keep the quarters together in pairs. Use the apple corer or cookie cutter to cut a semicircle out of the front edge of each apple quarter (refer to the pictures if you're not sure what I mean by this).
3. Place a small amount of each color of paint on a paper plate. Pick up one apple quarter and rub the front of it in one color of paint, wiping excess paint on the paper plate or cardboard. Gently press the apple stamp onto the tea towel, then set it down somewhere out of the way. Repeat with the matching apple quarter and the coordinating paint color, leaving a small gap between the two apple stamps. You'll end up with a complete apple that is half one color and half another!
4. Repeat Step 4 with the other two apple stamps and the other two colors.
5. Continue stamping until you like how the towel looks. When you've stamped as many apples as your little heart desires, use the black fabric paint and the paint brush to add two apple seeds to the center of each stamped apple, as shown in the pictures.
6. Allow the towel to dry completely. Lay it on an ironing board, cover it with an old pillowcase or scrap of fabric, and go over the whole thing with a hot iron.
7. Your towel should be good to go now! You can use it as you would any other kitchen towel, and can wash it on cold.