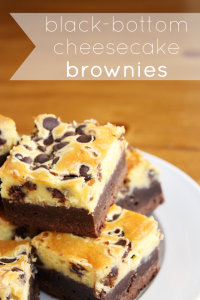 I started Lulu the Baker nearly 5 years ago so that I could participate in a few online baking groups that required participants to have blogs. I don't participate in any of them these days, mostly because of time, but they introduced me not only to this wonderful, supportive blogging community, but also to lots of helpful cooking techniques and amazing cookbooks. I even discovered some new family favorites and go-to recipes along the way, recipes that I turn to any time I have a special person or fun event to bake for!
This past weekend, we had a huge dessert auction at church to raise money for the teenage girls to pay for church camp this summer. People donated so many fantastic desserts–creme brulee, cupcakes, trifle, brownies, cookies, cakes, and more. I wanted to bring something extra special, so I pulled out one of my favorite early baking-group recipes, Black-Bottom Cheesecake Brownies. They are rich and sinful, and fetched a pretty penny at the silent auction. Between the deep chocolate brownie base and the chocolate-dotted, creamy cheesecake top, they are worth every cent!

Black-Bottom Cheesecake Brownies
lightly adapted from The Sweet Melissa Baking Book by Melissa MurphyI don't usually condone small dessert portions. However, these brownies are so rich that I strongly recommend cutting them into at least 24 bars. You can always eat two; I won't tell!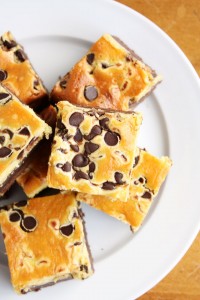 for the brownie layer:
6 oz unsweetened chocolate
2 sticks unsalted butter
1 2/3 cups flour
1/2 teaspoon baking powder
1/2 teaspoon kosher salt
4 eggs plus 2 egg yolks
2 cups sugar
1 Tablespoon vanilla
for the cheesecake layer:
2 8-oz bricks cream cheese, at room temperature
1 1/2 cups sugar
1/4 teaspoon kosher salt
6 large eggs
1 1/2 teaspoons vanilla
12-oz package semi-sweet chocolate chips
Begin by preheating the oven to 325°F. Lightly spray a 9×13″ baking pan with cooking spray. Line the pan with aluminum foil, leaving enough foil hanging out on each side to use when lifting the brownies out of the pan after they've cooled. Spray foil well with nonstick cooking spray.
To make the brownie layer, combine unsweetened chocolate and butter in a microwave-safe bowl. Microwave on high, stirring every 30 seconds, until chocolate and butter are melted. Whisk until smooth. In a small bowl, combine flour, baking powder, and salt. In a medium bowl, whisk eggs, sugar, and vanilla until smooth. Whisk in melted chocolate mixture. Add flour mixture and stir until smooth. Pour batter into prepared pan.
To make the cheesecake layer, beat cream cheese, sugar, and salt with an electric mixer until light and fluffy, about 2 minutes. Add eggs 2 at a time, beating and scraping down the sides of the bowl after each addition. Beat in vanilla. Pour cheesecake batter over brownie batter. Sprinkle chocolate chips evenly over the top, and bake for 1 hour 15 minutes, until golden on top. Remove the cheesecake brownies from the oven and allow to cool completely before removing from pan and cutting. Cut into 24 bars. Refrigerate leftovers.