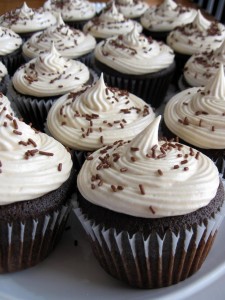 I have an admission: I am the teensiest bit tired of triple-layer cakes. There, I said it! It really comes down to the parchment circles. I know you can buy 8″ parchment circles somewhere, but I haven't found them yet, so every month I cut out three 8″ parchment circles while trying to keep the paper from rolling up, and I just couldn't make myself do it this month. Instead, I made plain old cupcakes. And they were so delicious that I don't think anyone cared that they didn't get a triple-layer cake! This Devil's Food recipe was easy to put together and tasted just like you'd imagine a Devil's Food cake tasting, and the cupcakes baked up moist and tender. I had problems with the frosting and ended up adding probably a full pound of powdered sugar to my brown sugar buttercream. But my husband said it was the best frosting ever and that I was lucky he left me enough to frost the cupcakes! I consider that a success.
Mile High Devil's Food Cake with Brown Sugar Buttercream
from Sky High: Irresistible Triple-Layer Cakes by Alisa Huntsman and Peter Wynne
I cut the recipe in half and got 15 cupcakes. I baked them at the same temperature, but reduced the baking time. If you want to do the same, I suggest checking your cupcakes after 20 minutes.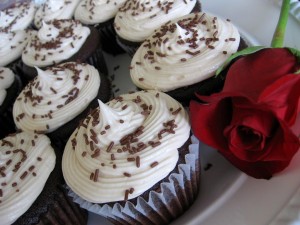 cake:
1 cup unsweetend cocoa (NOT Dutch processed)
1 1/2 cups hot water
3 cups light brown sugar, packed
2 2/3 cups cake flour
1 1/2 teaspoons baking soda
3/4 teaspoon salt
9 ounces unsalted butter at room temperature (2 sticks plus 2 Tablespoons)
3 large eggs
1 1/2 teaspoons vanilla
3/4 cup cold water
Preheat the oven to 325 degrees F. Butter the bottoms and sides of three 8-inch round cake pans. Line the bottoms of the pans with parchment paper and grease the paper as well. Place the cocoa in a medium bowl and add the hot water. Whisk until smooth and let it cool to room temperature. In the bowl of an electric mixer, combine the sugar, flour, baking soda, and salt. With the mixer on low blend to combine. Add the butter and the dissolved cocoa. Then raise the mixer to medium speed and beat for 2 minutes until light and fluffy. In a medium bowl whisk together the eggs, vanilla, and cold water until combined. Add this liquid to the batter in three additions scraping down the sides of the bowl between additions. Divide the batter among the three pans. Bake for 35-45 minutes or until a cakes tester inserted into the almost comes out clean. There should be a few crumbs attached still. Cool the cakes in the pans for 15 minutes. Then invert and remove parchment paper and cool completely on a wire rack.
frosting:
5 egg whites
1 1/4 cups packed brown sugar
1/4 cup water
1 pound unsalted butter at room temperature
Place all the egg whites in the bowl of an electric mixer; set aside. In a heavy medium saucepan combine the sugar and water. Cook over medium heat stirring to dissolve the sugar. Then bring to a boil without stirring and cook until the syrup reaches 238 degrees on a candy thermometer. Begin beating the egg whites on mediumlow spped. Slowly pour in teh syrup making sure not to hit the beater. Increase the mixer speed to medium high adn beat until the meringue has cooled to body temperature. With the mixer on medium-low add 1-2 Tablespoons of butter at a time. when all the butter has been added increase the mixer's speed to medium and beat until the mixture looks curdled or separated. Continue to beat until the icing comes together again looking like soft smooth whipped butter.
Assembling the cake:
Place one layer flat side down and cover it with 2/3 cup of the frosting. Top with second layer and repeat process. Top with third layer and frost the sides of the cake.