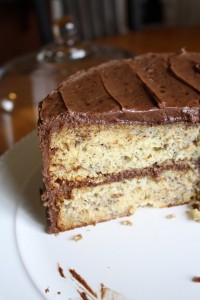 I was a little bummed when Banana Cake won the vote for this month's recipe from Southern Cakes by Nancie McDermott. I like banana bread, but I never crave it. I basically make it when my freezer is over-flowing with over-ripe, black bananas. But I went ahead and made it, and was thrilled with the results. If you, like me, merely like banana bread, the extra sweetness of the cake–and of course the chocolate frosting–will quickly win you over. And if you love banana bread, I'm pretty sure this will knock your socks off!
The banana cake didn't give me any of the common cake-from-scratch problems. The texture was great, the cake was light and tender, and it was perfectly moist. The only problem I had was with the frosting. I've made lots of cooked chocolate frosting before, and I've never encountered this problem: the milk and chocolate formed a weird, clumpy paste, while the butter simply floated on top. No amount of whisking could combine the three ingredients. Dumping it all in the mixer with the powdered sugar did solve the problem, however, and the frosting tasted fantastically fudgey!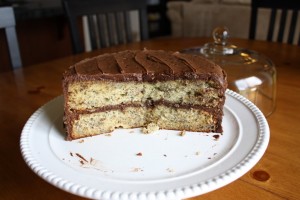 Another winner from Southern Cakes! If you'd like to see how the other Cake Slice Bakers fared, check out the blogroll!
Because I am too lazy to type out the recipe, I'll just link to Monica's blog, Lick The Bowl Good. I'm sure you'll thank me for doing that after you look through a few posts and bookmark ALL OF THEM!