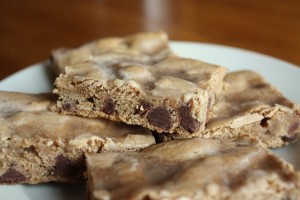 I've mentioned my sweet Nana a few times before on this blog. She is a wonderful cook who passed a lot of delicious recipes on to my mom, who, in turn, passed them on to me. Nana's German Cookies have been a family favorite for as long as I can remember. Their pleasant blend of chocolate chips, spicy batter, and sugary icing are delicious, old-fashioned, and homey.
Nana's German Cookies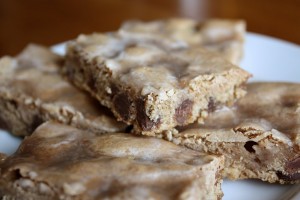 for the cookies:
4 eggs
2 1/4 cups brown sugar
1/4 teaspoon salt
1/2 teaspoon ground cloves
1 teaspoon cinnamon
2 1/2 cups flour
1 cup chocolate chips
1 cup raisins (optional)
1 cup chopped nuts (optional)
Preheat the oven to 350 degrees. Spray a jellyroll pan with cooking spray and set aside. In a large bowl, cream eggs and sugar until well combined. Add salt, cloves, cinnamon, and flour; mix until combined. Gently stir in chocolate chips, nuts, and raisins. Spread batter in prepared pan, and bake for 20 minutes, until lightly golden. While the bars are baking, prepare the glaze. Pour glaze over hot bars and spread evenly. Allow bars to cool and glaze to set before cutting.
for the glaze:
1 cup powdered sugar
1 Tablespoon butter, softened
splash vanilla extract or maple flavoring
milk (up to 1/4 cup)
Combine powdered sugar, butter, and flavoring in a small bowl. Whisk in the milk, a few Tablespoons as a time, until the desired consistency is reached. It should be about as thick as pancake syrup.