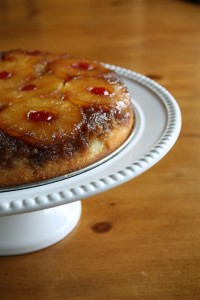 Pineapple is my favorite fruit. I love it in all of its many forms: fresh, canned, grilled, baked in a cake, skewered on kabobs, blended in drinks, atop a pizza. I just plain love it, so I was thrilled that this month's cake of choice from Southern Cakes was a pineapple upside-down cake. And when our bookclub met to discuss
The Help
by Kathryn Stockett (fantastic!!), I knew this cake would fit beautifully with the southern setting of the book.
The cake was delicious: simple, straight-forward, and tasty. It seemed like a good, old-fashioned, homey dessert, and everyone who was lucky enough to get a piece loved it.
Pineapple Upside-Down Cake
from Southern Cakes by Nancee McDermott
I baked mine in a 10-inch cast-iron skillet, as the recipe suggests. You can alternately use a 9-inch round cake pan.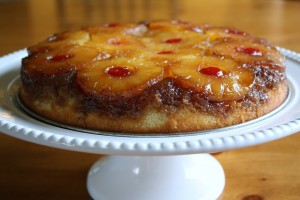 Topping:
1 20-oz can pineapple rings
4 Tablespoons butter
2/3 cup firmly packed brown sugar
10 maraschino cherries
Cake:
1 1/2 cups flour
3/4 cup sugar
1 1/2 teaspoons baking powder
1/2 teaspoon salt
1/2 cup milk
4 Tablespoons butter, softened
1 egg
1 teaspoon vanilla
Preheat oven to 350 degrees. Drain the pineapple, reserving 2 Tablespoon of the juice for the bake batter. Melt 4 Tablespoons of butter in skillet over medium heat. Remove pan from heat, and sprinkle brown sugar over the butter. Carefully place pineapple rings over brown sugar, making sure they don't overlap (I got 11 pineapple rings to fit). Place a cherry in the middle of each pineapple ring; set pan aside. In a large mixing bowl, combine flour, sugar, baking powder, and salt. Add milk and butter. Using a mixer, beat well for 1 to 2 minutes, until a thick, smooth batter forms. Add egg, reserved pineapple juice, and vanilla. Beat 2 additional minutes, scraping the bowl as necessary. Pour batter over pineapple topping, spreading evenly. Bake for 35 to 40 minutes. Cool in skillet for 5 minutes, then carefully turn cake out onto a serving plate.