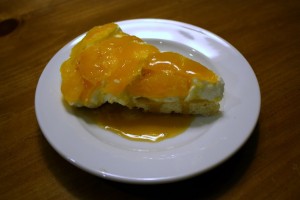 The March Daring Bakers Challenge was hosted by Jennifer of Chocolate Shavings. She chose Orange Tian as the challenge for this month, a dessert based on a recipe from Alain Ducasse's Cooking School in Paris. Pardon the ugly photos. It was 9 PM. Just take my word for it: it was delicious!
I've not been the best Daring Baker over the last year, but I promised myself I would participate in this month's Daring Bakers challenge come hell or high water! And luckily for me, the recipe sounded amazing: a crispy, slightly sweet shortbread-ish crust, homemade orange marmalade, piles of whipped cream, fresh orange segments, and a luscious orange-caramel sauce. Was it labor intensive? Yes. What it delicious? OMG! The Orange Tian was practically the most perfect dessert I've ever eaten. There were parts (the crust and the whipped cream) with just a hint of sweetness, which were perfectly balanced by the incredible, sweet and tangy orange-caramel sauce drizzled over the top. It was light and refreshing without being pure fluff. It left me very satisfied, yet sad that there wasn't more because it was just. so. delicious.
Instead of making lots of individual servings, I made a family-sized 9″ Orange Tian and cut it into wedges. And we ate all 9″ of it. Every last crumb. I think a few people even secretly licked their plates, or not so secretly in my case. Now for the big question: Would I make Orange Tian again? Yes, but only if I needed a really impressive dessert with tons of Wow! factor for a dinner party or something, because it really does take all day. But a corollary to that question is Would I order this if I saw it on a menu? And the answer to that is YES!!! And I'll keep my fingers crossed that I do!
If you are feeling adventurous, give the recipe a whirl. I promise, you will LOVE it!
Orange Tian
adapted from a recipe by Alain Ducasse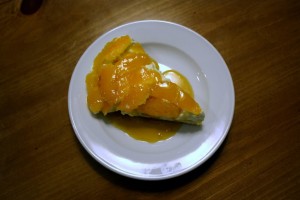 Pate Sablee (the crust):
2 medium egg yolks, room temperature
6Tablespoons plus 1 teaspoon sugar
1/2 teaspoon vanilla extract
7 Tablespoons unsalted butter, cold and cubed
1/3 teaspoon salt
1 1/2 cups plus 2 Tablespoons flour
1 teaspoon baking powder
Put flour, baking powder, butter, and salt in the bowl of a food processor fitted with a steel blade. In a separate bowl, beat egg yolks, sugar, and vanilla until pale. Pour egg mixture into food processor and pulse just until dough comes together. If the dough is too crumbly, add a few drops of cold water and pulse again until the dough forms a homogeneous ball. Form into a disc, cover with plastic wrap, and chill in fridge for 30 minutes. Roll out chilled dough on a lightly flour surface; roll to a thickness of 1/4 inch. If you are making individual desserts, cut out circles with a cookie cutter. If you are making one large dessert, cut a circle the same size as the bottom of a large springform pan. Place circles on a parchment line baking sheet, and bake for 20 minutes until just golden.
Orange Segments:
8 large oranges
Cut the peel off of each orange and cut it into segments. Reserve as much of the juice as you can, and put the juice and segments in a bowl.
Caramel Sauce:
1 cup sugar
1 1/2 plus 2 Tablespoons orange juice
Put the sugar in a deep saucepan over medium heat. When the sugar has melted, slowly add the orange juice. This will make the caramelized sugar seize up, but just be patient and keep stirring and heating it, and eventually, that sugar will melt back down. Pour half of this caramel sauce over the orange segments, cover, and refrigerate. Pour the remaining sauce into a small bowl and refrigerate.
Marmalade:
1/4 cup plus 3 Tablespoons freshly squeezed OJ
1 large orange, scrubbed, and sliced, peel and all
cold water
1 teaspoon powdered pectin
granulated sugar
Place the orange slices in a pot, cover with cold water, and bring to a boil. Cook for 10 minutes and drain. Repeat this process 2 more times. Blanching removes a lot of the bitterness from the orange peel. Puree blanched orange slices in a food processor. Weigh the orange puree with a kitchen scale and set aside. Measure out the exact same weight of granulated sugar. Combine sugar, orange puree, pectin, and orange juice in a pot, and cook until the mixture reaches a jam-like consistency, about 10-15 minutes. Transfer to a bowl, cover with plastic wrap, and refrigerate.
Whipped Cream:
1 teaspoon unflavored gelatin powder
3 Tablespoons very hot water
1 cup heavy cream
1 Tablespoon powdered sugar
1 Tablespoon orange marmalade
In a small bowl, combine gelatin and hot water, and stir until gelatin is fully dissolved. Set aside to cool. Pour cream into a chilled mixing bowl, and beat on low speed until cream begins to thicken, about 1 minute. Add powdered sugar, increase speed to medium-high, and continue beating until beaters leave a visible but temporary trail in the cream. While the beater are going, slowly pour the cooled gelatin into the cream. Continue whipping until the cream is light and fluffy and forms soft peaks. Fold in orange marmalade.
Putting it all together:
Make sure you have room in your freezer for a baking sheet with several cookie cutters or springform pans on it. Heat reserved orange-caramel sauce in a small pan until it is syrupy. Set aside to cool. Line a baking sheet with parchment paper. Lay out the cookie cutters or springform pans (the same ones you used to make the crust) on the baking sheet. Drain the orange segments very well. Arrange the drained orange segments on the baking sheet inside the circle molds. Make sure they fit together snuggly and look nice; this will end up being the top of your dessert. Next, spoon on the whipped cream. Make sure you leave a 1/4″ at the top of each mold for the crust. If you are using one big pan, this won't be a problem. Spread a thin layer of orange marmalade onto one side of your crust, and place the crust on top of the whipped cream so that the marmalade is touching the whipped cream. Gently press the crust so that the dessert is compact. Place the baking sheet in the freezer for 10 minutes. Run a small knife around the edges of the pan to loosen the dessert. Place your serving tray on top of the dessert, and carefully flip it over. Remove the circle mold, drizzle the top of the dessert with caramel sauce, and serve immediately.