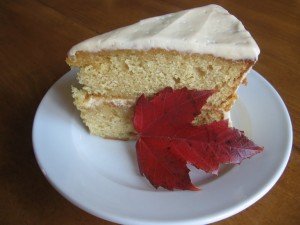 This month's Cake Slice Bakers choice from Nancie McDermott's Southern Cakes was the fabulous Burnt Sugar Cake. Nancy explains in the recipe's introduction that unlike a caramel cake, which is just a yellow cake with caramel frosting, a burnt sugar cake has caramel syrup in both the cake and the frosting. The results are delicious. But I actually have another recipe for burnt sugar cake that I like a lot more. And it makes a single layer. And if you've read this blog recently, you know how I feel about layer cakes these days.
Burnt Sugar Cake
from Southern Cakes by Nancie McDermott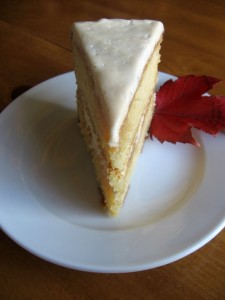 Burnt sugar syrup:
1 cup sugar
1 cup boiling water
Heat the sugar in a large, heavy pot with tall sides (so you don't burn yourself with sputtering caramel) over medium-low heat, stirring occasionally, until all of the sugar is melted. Carefully add the boiling water. Continue cooking and stirring until the sugar and water are combined to make an amber-colored syrup. Set aside to cool.
Burnt Sugar Cake:
3 cups flour
1 Tablespoon baking powder
1/2 teaspoon salt
1 teaspoon vanilla
1 cup milk
1 cup butter, softened
1 3/4 cups sugar
4 eggs
Preheat the oven to 350 degrees and grease and flour two 9″ round cake pans. In a medium bowl, combine flour, baking powder, and salt. Stir the vanilla into the milk. In a large bowl, beat the butter and sugar at high speed for 2 to 3 minutes. Add the eggs one at a time, beating well and scraping down the sides of the bowl with each addition. Pour in 1/2 cup of burnt sugar syrup and beat well. Add your dry ingredients in 3 additions, alternating with the milk, and beginning and ending with the dry ingredients. With each addition, beat just enough to combine. Divide batter evenly between pans, and bake for 20 to 25 minutes. Let cakes cool in the pans on a wire rack for 15 minutes, then remove from pans and cool completely.
Burnt Sugar Frosting:
3 3/4 cups powdered sugar
1/2 cup burnt sugar syrup
1/4 cup butter, softened
1/2 teaspoon vanilla
2 to 3 Tablespoon milk or evaporated milk
In a large bowl, combine everything but the milk, and beat for 2 to 3 minutes at medium speed. Add milk and continue mixing until frosting is a smooth, spreadable consistency.
Place one layer of the cake top-side down onto a platter. Spread just enough frosting over the top to cover it, then place the second cake layer on top with the top of the cake up. Spread remaining frosting evenly over top and sides.