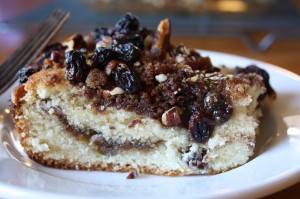 I'm grateful for the little things in life, things like a baby's first smile, sleeping in on a Saturday morning, and oxiclean stain remover. And I'm grateful that we've got a new Cake Slice cookbook to work from over the next 12 months, a book that has something other than layer cakes! Who would've thought that I'd get so sick of making layer cakes in the short space of one year?! Our new cookbook for the 2009-2010 Cake Slice Bakers season is Southern Cakes by Nancie McDermott, and it has already won me over completely. Beautiful pictures, yummy-sounding recipes, only one chapter of layer cakes…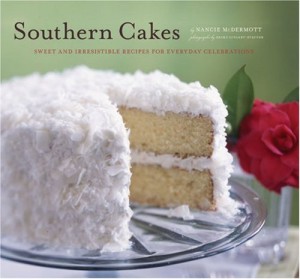 This month's winning recipe was Mother's Cinnamon-Pecan Coffee Cake. In the recipe's introduction, Nancie talks about how her mother made this every Christmas morning. What a delicious holiday tradition! The cake was tender and moist, and the cinnamon made the whole house smell delightful. I cut the recipe in half and baked it in an 8″ square pan, but otherwise followed the recipe exactly. My only complaint is that because the cake baked for almost 1 hour, the raisins in the top layer tasted a little charred. When I make this cake again, I plan on leaving the raisins off the top completely, and just sprinkling a few of them into the middle layer.
Mother's Cinnamon-Pecan Coffee Cake
from Southern Cakes by Nancie McDermott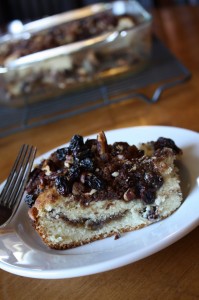 Cinnamon-Raisin Filling:
1 1/2 cups light brown sugar
3 Tablespoons all-purpose flour
3 Tablespoons ground cinnamon
1 1/2 cups raisins
1 1/2 cups coarsely chopped pecans
3/4 cup butter, melted
Coffee Cake:
3 cups all-purpose flour
1 Tablespoon baking powder
1 teaspoon salt
1 teaspoon vanilla
1 cup milk
1 cup butter, softened
1 cup sugar
2 eggs
Preheat the oven to 350 degrees and grease a 9×13″ pan. Combine the brown sugar, flour, and cinnamon in a medium bowl, and stir with a fork. Combine the raisins and pecans in another bowl and toss to mix. Set aside these two bowls, plus the melted butter. Combine the flour, baking powder, and salt in a medium bowl and mix well. Stir the vanilla into the milk. In a large bowl, combine the butter and sugar, and beat on high speed about 2 minutes, until pale and evenly mixed. Add the eggs and beat for another 2 minutes, scraping down the bowl occasionally. Using a large spoon or spatula, add the flour mixture to the creamed butter mixture in three additions, alternating with the milk mixture and beginning and ending with the flour. With each addition, stir just enough to keep the batter smooth. Spread half of the batter evenly oven the bottom of the greased pan. Sprinkle half of the cinnamon mixture over it, followed by half of the melted butter, and half of the raisin-pecan mixture. Repeat batter, cinnamon, butter, and raisin layers, covering the cake evenly. Bake at 350 degrees for 45 to 50 minutes. Serve warm.