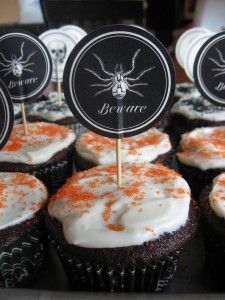 I have inherited my mother's love of celebrations. Birthdays were always a huge deal in our family when I was growing up. We started the day with a new outfit and breakfast of our choice (we usually chose Toaster Strudel) and ended it with banners, cake, candles, and presents galore. Holidays both big and small always got the star treatment. St. Patty's Day, for example, meant that we could have Lucky Charms for breakfast, absolutely had to wear green, and ate our traditional Irish Fry. We even, on occasion, got little gift bags full of green and/or Irish-themed goodies (ask me about the notorious Irish Spring incident sometime!). And the really special holidays–Halloween and Christmas, to be exact–even got extra days of fun thrown in.
Every October 1st and December 1st of my entire life has been celebrated with a special party to kick off the holiday month (and we actually weren't allowed to celebrate until this party, which made it all the more exciting). When I was growing up, these shindigs involved eating holiday food, distributing, making, and putting up holiday decorations, and dancing around the holiday pillowcases. What was that last part, you say? You mean you don't dance around the holiday pillowcases in your family? Well then…When I was very young, my mom had someone make Halloween pillowcases and Christmas pillowcases for all of us. Our Christmas pillowcases were actually assigned to us, but the Halloween ones changed owners every year, and my mom decided who got which pillowcase by laying them on the floor, covering them with a tablecloth, and making us dance around them while she sang holiday songs. When she hollered, "Stop!" we threw aside the tablecloth and laughed with childish delight at whichever pillowcase we got. Unless you were unlucky enough to get the candy corn pillowcase. I don't know what that poor pillowcase ever did to us, but we universally hated it. Whoever got it each year was the butt of jokes for the rest of the evening!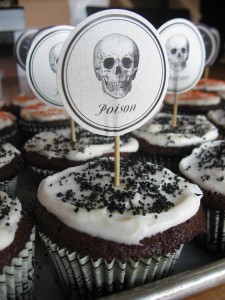 Anyway, to make a long story short, this week's Sweet Melissa Sundays recipe was supposed to be Devil's Food Cake with Peanut Butter Frosting, but I'm on vacation, so we'll have to settle for the Devil's Food Cupcakes that I made for our annual October 1st Party this year! This cake recipe actually appears three times in The Sweet Melissa Baking Book–once as Devil's Food Cake with Peanut Butter Frosting, once as Brooklyn Brownout Cake, and once as Chocolate Malted Layer Cake. Since it pops up so many times, you have to assume that it is delicious. And it is! Rich, moist, and chocolatey. And it is pretty easy to put together (i.e. it doesn't call for any whipped egg whites, which is always a good thing if you ask me!). The Brooklyn Brownout Cake version is scaled down a tiny bit, so I used it to make almost exactly 24 cupcakes (just a tiny bit of batter left over). I can't remember how long I had to bake them, but I'm guessing I started at 20 minutes and then checked them every few minutes until they were done. The frosting I made was just a standard vanilla frosting with butter, milk, vanilla, and powdered sugar. They turned out great, and actually got better on day 2!
Many thanks to Holly of Phe/mom/enon for choosing this delicious recipe; I hope to get around to the peanut butter frosting sometime! You can find the recipe on Holly's blog by clicking here.