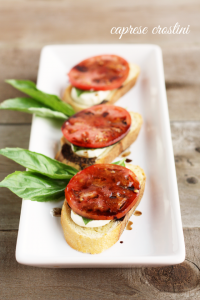 My husband is in love with caprese salad. He gets quite miffed in the winter when it's no longer on the menu of our favorite restaurant, and dreams of one day growing hot-house tomatoes year round so that he can have caprese salad whenever he fancies it. I made these Caprese Crostini in his honor, and I have to say, they scored me some pretty major points! The addition of a lightly toasted slice of deliciously chewy baguette–rubbed with garlic and olive oil, no less!–makes the classic combination of creamy, fresh mozzarella, bright tomato, sharp basil, and sweet balsamic vinegar even more amazing. It takes the caprese from a simple salad to an appetizer that is both fresh and filling. My husband actually couldn't eat dinner the night I made these, because I made eight crostini and he ate seven of them! Oh sweet insanity!
for my husband, who loves a good caprese salad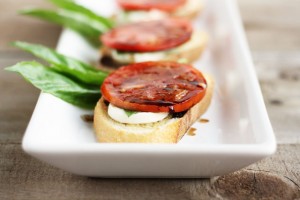 a baguette, cut into 1/2″ slices on an angle (more surface area!)
good olive oil
whole, peeled garlic cloves
fresh mozzarella, cut into 1/4″ slices
fresh garden tomatoes, cut into 1/4″ slices
salt
freshly ground black pepper
good balsamic vinegar
Preheat the oven to 400°F. Arrange the baguette slices in a single layer on a baking sheet and brush lightly with olive oil. Bake for 9-10 minutes, remove from oven, and rub the olive oil-brushed surface of each slice with a garlic clove. It might seem like nothing is happening, but tiny bits of fresh garlic are being grated onto the crostini and melting in to the hot bread. Magic!! Immediately place a slice or two of fresh mozzarella on each crostini. Allow to cool to room temperature. Top each crostini with enough basil leaves to cover the cheese, then a slice of tomato. Sprinkle with salt and freshly ground black pepper. Drizzle with balsamic vinegar and serve immediately.