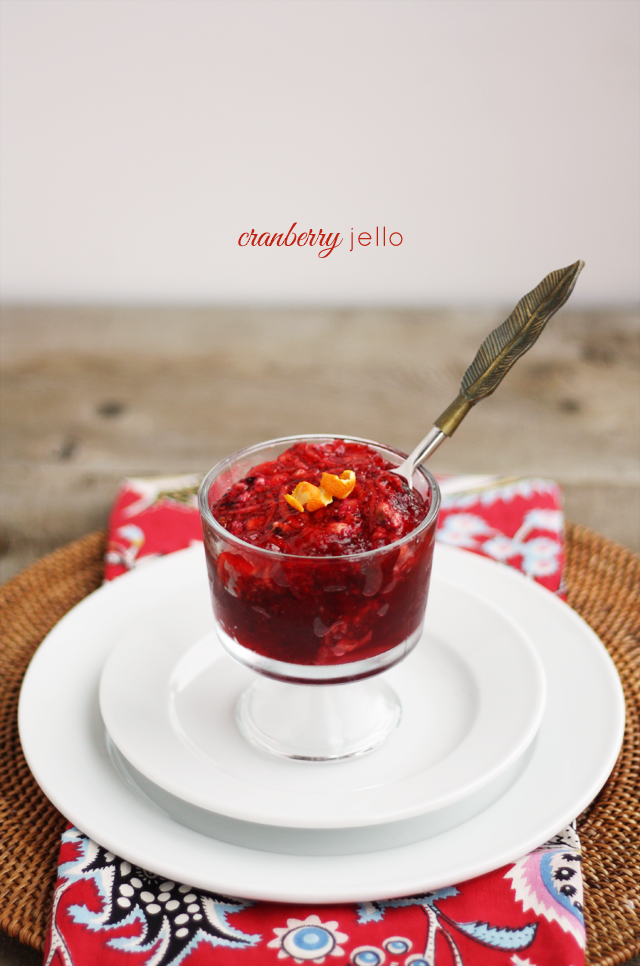 This cranberry jello recipe is one of those that I didn't grow up with–it's not an old family recipe or anything–but it has since become a holiday staple, and I can't imagine Thanksgiving or Christmas dinner without it. I could easily polish off an entire 9×13″ pan all by myself, but it's so popular that I never get the chance. It is truly amazing and tastes just like the holidays, with hints of fresh orange and cranberry, and deliciously earthy walnuts that I just can't get enough of. It's like jello got invited to the grown-ups' table.
Jello gets dressed up for the Holidays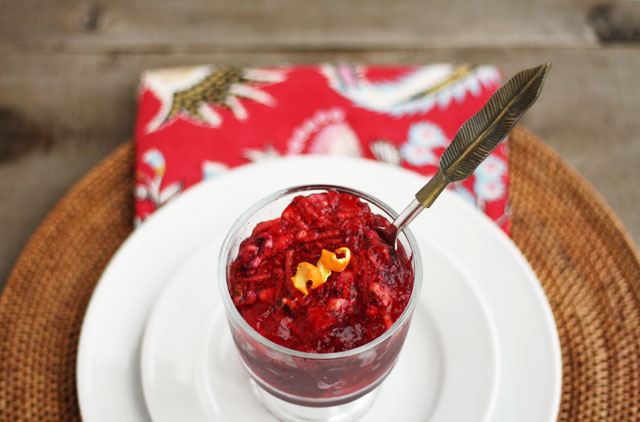 1 1/2 cups fresh cranberries
3/4 cup sugar
1 large + 1 small box Cherry Jello
3 cups boiling water
2 3/4 cups cold water
1/4 cup orange juice
2 teaspoons orange zest (2 large oranges should give you just the right amount of zest.)
3/4 cup chopped walnuts
1 cup peeled and grated tart apple (Granny Smith and Honeycrisp both work beautifully here.)
Grind the fresh cranberries in the bowl of a food processor, add sugar, and allow to sit for 2 hours. When the cranberries are ready, combine both boxes of Jello and boiling water in a 9×13″ pan. Stir gently until all of the Jello is dissolved. Add the cold water and orange juice, and stir to combine. Add all remaining ingredients (sweetened cranberries, orange zest, walnuts, and grate apple). Stir gently to evenly distribute the fruit and nuts. Refrigerate until set (usually overnight).