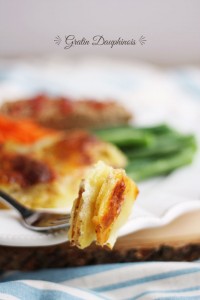 Gratin Dauphinois. They're really just scalloped potatoes with a fancy name. But no matter what you call them, they're amazing! Cheesy and buttery, with just a hint of garlic. They're perfect with ham. They're perfect with roast chicken. They're delicious right out of the oven and even better reheated the next day. Although I've never tried them for breakfast, I bet they'd be yummy with eggs and toast too!
– – – – –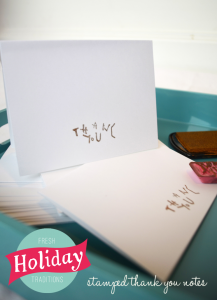 This week's Fresh Holiday Traditions post is from
Alexandra Hedin
, and it is so cute: custom made Thank You stamps from your children's handwriting! I think it's so important for us to teach our kids about gratitude and good manners. Instilling those things in them early hopefully insures that they'll be kind and courteous adults. You can find the directions for this cute holiday project on
Alexandra Hedin
.
Have you missed a Fresh Holiday Traditions post this month? Here's a complete list:
If you do one of the Fresh Holiday Traditions projects, or if you want to share your own holiday tradition, snap a picture and post it on Instagram with the hashtag #freshholidaytraditions!