I'm so excited for today's post! I really love DIY projects of all shapes and sizes; soaps, lip balms, Easter dresses, barns…you name it, I like to try my hand at making it. Upholstery projects, however, have always seemed big, complicated, and scary. But my family has a piece of furniture or two that could really use some TLC, and thanks to Amanda Brown's new book Spruce: A Step-by-Step Guide to Upholstery and Design, I actually feel like I could get the task done myself!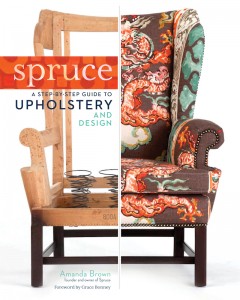 Amanda Brown is the owner of Spruce, a swanky upholstery shop in Austin, TX. After taking a handful of upholstery classes, she decided to open shop in 2007 and is now an expert at stylish furniture rescues. This darling little video from Storey Publishing will make you want to go hunt down the perfect reupholstery project!
The book is just as wonderful as you'd expect it to be! In addition to step-by-step directions with full-color photos for 6 fantastic upholstery projects, it has inspiration pages, colorful illustrations, and tons of design tips. It even has a chapter on sewing pillows and bolsters and an appendix filled with cool tools.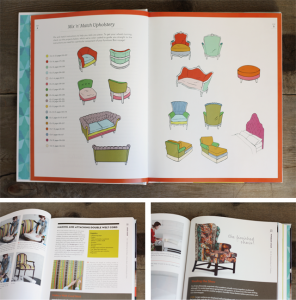 With my new book in hand, I feel completely ready to tackle an upholstery project, and it just so happens that I have one. My in-laws recently bought a little fixer-upper to renovate and keep as an income property. It came with this beauty of a couch from the 1970's. My husband assures me that the couch just needs a little love and it will be a show-stopper.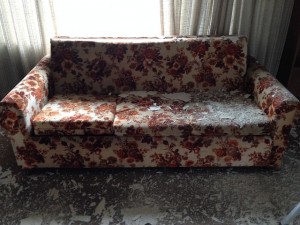 And that brings me to our two exciting give-aways!
Give-Away #1: Storey Publishing is putting on a Spruce Ugliest Chair Contest on their Facebook page. All you have to do is post a picture of a super ugly chair you'd like to reupholster, and you're entered to win an upholstery hand-tool kit, gorgeous fabric, custom design recommendations from Amanda Brown, and a signed copy of the book–a prize package worth nearly $500!! Click here for details.
Give-Away #2: Leave a comment on this post with your idea for how I should reupholster this ugly couch (zebra stripes! ikat! tartan!) plus your email address, and I'll choose 1 lucky winner Monday at midnight to receive a free copy of Spruce: A Step-by-Step Guide to Upholstery and Design! Yowza, you guys. This book is good! My give-away is now closed. Thanks for stopping by!