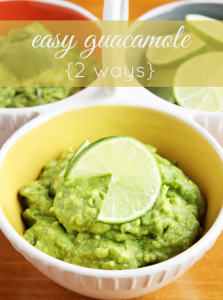 Since I've dedicated a whole month to Mexican food, you've probably figured out that I love it. I think one of the reasons I am so enamored of Mexican food is the toppings factor. I can really get on board with a cuisine that has so many tempting ways to dress up delicious food. Salsas, sauces, sour cream, thinly shredded lettuce, chunks of juicy tomato, salty cheese, a squirt of lime. And the king of condiments, guacamole! Good guacamole is a beautiful thing. It has a fresh, green color and the mild, creamy flavor to match. You can use it as a topping for your favorite burrito or quesadilla (which is exactly what I did after taking these pictures), or you can cozy up to a big bag of chips and just dig in!
I'm not super picky when it comes to guacamole; as long as the avocados are fresh and you go easy on the spices, I'm a happy girl. But my absolute favorite way to make it takes less than 5 minutes and only calls for 4 ingredients: avocados, lime, garlic salt, and pepper. That's it! It's so fast and so fresh and so delicious that I don't know why I ever bother to make guacamole any other way. But just in case you like it chunky, I've included a few optional ingredients below that add to the flavor without adding to the fuss.
The chunky version comes from my mom's cousin, Julie.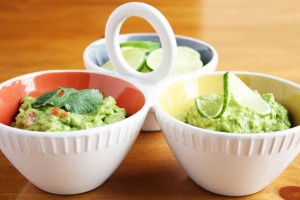 2 large, ripe avocados
1 lime
garlic salt
freshly ground black pepper
2 medium tomatoes, seeded and finely chopped (optional)
1/4 cup finely chopped cilantro leaves (optional)
4 green onions, white and light green parts only, finely chopped (optional)
for bare-bones guacamole (my personal favorite):
Slice the avocados in half and remove the pits. Scoop the insides out and place in a medium bowl. Mash with a fork until fairly smooth. Cut the lime in half and squeeze the lime juice into the bowl; stir to combine. Add garlic salt and black pepper to taste.
for chunky guacamole:
Follow the recipe above, and add tomatoes, cilantro, and green onions. Stir to combine.