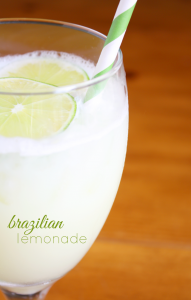 When I was in college, a restaurant named Tucanos opened up in town. It was kind of a big deal. It was the kind of place that was expensive for college students, didn't take reservations, and made you wait for ridiculous amounts of time before you could be seated. When your parents came to town for Homecoming weekend or graduation, of course you made them take you (and your very luckiest friends) out to dinner there, and if a boy took you to Tucanos on a date, you knew he was really trying to impress you. They served what seemed like a million different kinds of delicious grilled meats on dangerously long skewers, and little carafes of this intoxicating brazilian lemonade. It was sweet and tart and creamy and refreshing–delicious enough to make those hefty prices, long waits, and awkward first dates worth it.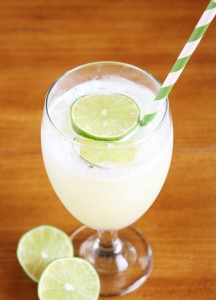 3 limes, quartered
1/3 cup sugar
1/3 cup sweetened condensed milk
4 cups cold water
Place limes in a blender with sugar and sweetened condensed milk. Add as much of the water as you can and pulse until everything is combined. Yes, there will still be big chunks of unpeeled limes in your blender. That is OK! Pour mixture through a mesh strainer and into a pitcher. Pour the remaining water over the pulp in the strainer to remove any sugar or juice that stayed behind. Stir and serve immediately over crushed ice. Makes a little over 1 quart.