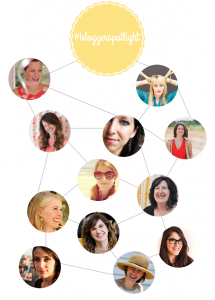 I'm a little slow on the uptake when it comes to social media; I haven't been on Facebook for a full year yet, and didn't join Twitter until the beginning of 2012 (which I'm still kicking myself for). But surprise, surprise, I've actually been on Instagram for a couple of years now, and am absolutely head-over-heels for it. It's my favorite way to see what's going on in the daily lives of friends who live both near and far, and a fun behind-the-scenes look at some of my favorite people and their little corners of the world.
I've teamed up with 11 of my favorite bloggers in a little Instagame we're calling #bloggerspotlight. If you follow me on Instagram, you've probably noticed a few spotlights on my feed over the past few weeks. I'm so excited to share with you these beautiful, talented, enormously creative women! I suggest you follow all of them for a daily dose of yummy food photos, amazing project pics, and the real reason we're all on Instagram, adorable pictures of pets and children!
So who are these lovely ladies? Alexandra Hedin @ahedin | Alix from A Ruffled Life @aruffledlife | Emily from Beautiful Hello @beautifulhello | Jenny from Hank and Hunt @hankandhunt | Lexy from The Proper Pinwheel @properpinwheel | Mari from Small for Big @smallforbig | Melanie from Inward Facing Girl @inwardfacinggirl | good ol' me @luluthebaker | Sarah from Sarah Hearts @sarahkhandjian | Tan from Squirrelly Minds @squirrellyminds | Tiffany from Rue Rococo @ruerococo | Whitney from The Curtis Casa @thecurtiscasa
I've also been making up hashtags left and right this summer. Any picture that I post on Instagram that goes with a recipe from Lulu the Baker gets the #luluthebakerrecipe hashtag. So if you see a picture of a yummy-looking chocolate zucchini cake and want to know if the recipe is here on the blog, just check for the #luluthebakerrecipe hashtag. If you try any of my recipes, I'd love for you to take a picture and post it to Instagram using the same hashtag so I can see it!
– – – – –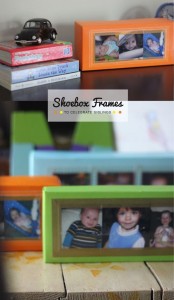 All this talk of Instagram and hashtags leads me to this week's Endless Summer Projects post from MJ of Pars Caeli. You can find full directions on her blog today for making these adorable Shoebox Frames! And believe it or not, next week is our very last project for 2013! Be sure to check Classic Play next Wednesday for the final project. We'll also have a full and complete list of projects and links right here on Lulu the Baker next week. In the meantime, here's what we've done so far:
If you make one of these projects or want to join in on the fun, take a picture of your creations and post them to Instagram using the hashtag #endlesssummerprojects. We'd love to see them!