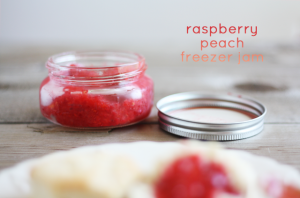 Nothing beats freezer jam for capturing the flavors of summer. Cooked jam is delicious and wonderful, and we make pints upon pints upon pints of it from strawberry season through the end of the summer. But freezer jam, with its bright, fresh, clean flavors, is even more amazing than jam that's been cooked and preserved. I've been waiting all year for peach season to arrive so that I could try a batch of peach raspberry, and it is like a tart, fruity dream. Would you believe me if I said it tastes like sunshine? How about happiness?
Raspberry Peach Freezer Jam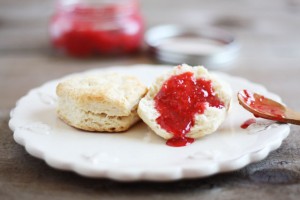 fresh raspberries, pureed
fresh peaches, pureed
bottled lemon juice
sugar
instant pectin
In your box of pectin, there will be a general freezer jam recipe, and you're going to follow it with just a few changes. It will call for some measurement of fruit. Use half raspberry puree and half peach puree. If there's a recipe for peach freezer jam, it will probably call for lemon juice. Because you're using half the amount of peach puree, you only need half the amount of lemon juice. Stir to combine. Follow the rest of the recipe, adding all of the sugar and all of the pectin called for. Allow to sit for the length of time prescribed by the recipe, pour into clean glass or plastic containers, and freeze!