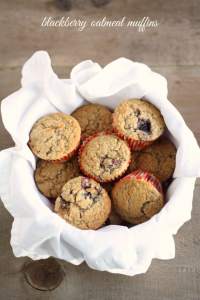 I always chuckle when I see blackberries for sale at the grocery store, or when I hear about people buying blackberries. They grow everywhere here in the Pacific Northwest: if you leave a piece of land unattended for any length of time, blackberry brambles take over with a speed that is astonishing. We actually have to pay people to come clean up the blackerries, to trim them back or tear them out. While I was running errands this morning, I drove past a pickup truck parked on the side of the road, and two teenage boys picking blackberries and putting them in big bowls from their mom's kitchen. If you want blackberries here, you just pull over and pick them.
Whether you get your berries for free on the side of the highway or in a little teal berry basket from the produce section, these wholesome muffins are a delicious way to use them up. With a warm spiciness from cinnamon and nutmeg, these blackberry-studded oatmeal muffins are right at home on a farm-fresh dinner table or hearty breakfast spread.
Blackberry Oatmeal Muffins
makes 1 dozen
first published on Lulu the Baker in August, 2008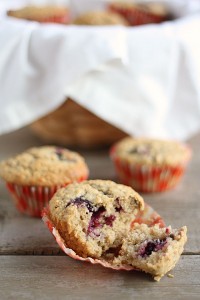 1 cup quick oats
1 cup buttermilk
1 egg
1/2 cup brown sugar
1/2 cup butter, melted
1/2 teaspoon vanilla
1 cup flour
1/4 teaspoon salt
1 teaspoon baking powder
1/2 teaspoon baking soda
1/4 teaspoon nutmeg
1/4 teaspoon cinnamon
1 cup blackberries
Combine oats and buttermilk, and set aside. Preheat the oven to 400°F. In a large bowl, combine egg, sugar, melted butter, and vanilla; stir. In a separate bowl, combine flour, salt, baking powder, baking soda, nutmeg, and cinnamon. Add oat mixture and flour mixture to egg mixture, and stir until just combined. Gently fold in blackberries. Spoon into 12 prepared muffin cups (either greased or papered) and bake for 20 minutes or until done. Allow to cool before eating.