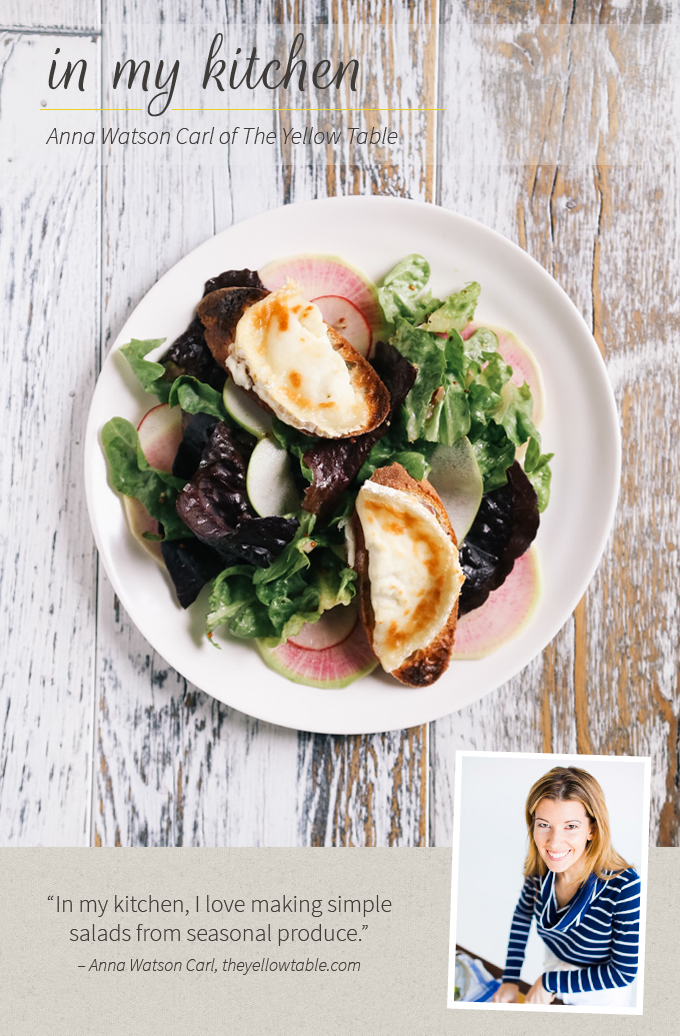 "Salads are one of my favorite foods, and they are endlessly versatile. I love combining fresh, seasonal produce and a nice balance of flavors and textures: a little sweet, a little salty, a little bit of crunch, and a splash of acidity from either citrus or vinegar. And always good extra virgin olive oil and a sprinkling of sea salt. This Warm Goat Cheese Salad is one of my all-time favorites, inspired by my time living in Paris. I combine a mixture of baby lettuces with thinly sliced watermelon radish and green apple, toss with a Dijon shallot vinaigrette, and top with warm goat cheese crostini. I never get sick of this salad!"
– – – – –
Anna Watson Carl is a Manhattan-based cook and food writer, and the author of The Yellow Table blog. Her work has been featured in a variety of publications including Food & Wine, TIME, WSJ Magazine, Martha Stewart Everyday Food, Bon Appetit, and Real Simple. Her first cookbook, The Yellow Table: A Celebration of Everyday Abundance will be out this fall, featuring 100+ simple, healthy recipes, affordable wine pairings, and a stress-free guide to hosting dinner parties.
[photo credits: headshot by Nate Poekert; salad photo by Signe Birck]
I've admired Anna for a long time! She's an amazing cook and recipe developer, and a huge inspiration. I can't wait for her cookbook to come out this fall!