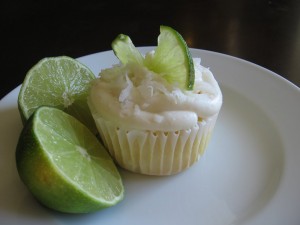 Before my daughter went down for her nap, I asked her what she wanted for dessert tonight. She decided on yellow cupcakes. I was feeling a little adventurous this afternoon, so instead of making plain old yellow cupcakes from a box, I decided to doll them up a bit with a little key lime juice. Now, because these were spontaneous, I kind of had to wing it a little. I wanted to add vanilla pudding to make them really moist, but I only had 1/2 a box. And then I couldn't find consistent directions on how to alter the recipe when you add a pudding mix. Some people said don't change anything, some said add an extra egg, more water, milk instead of water, etc. They turned out just fine. Very tart, but very tasty.
Key Lime Cupcakes with Coconut Cream Cheese Frosting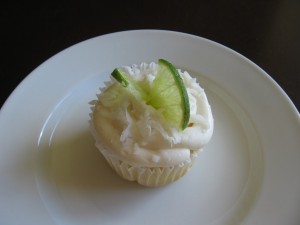 Cake:
1 box yellow cake mix
1/2 of a small box instant vanilla pudding
1/3 cup oil–I used coconut oil because I had some that needed to be used; anything will work
3/4 cup water
1/2 cup key lime juice
3 eggs
1 teaspoon lime zest
Blend all ingredients according to cake mix directions. Scoop into 24 prepared muffins tins, and bake at 350 for about 23 minutes. Cool completely before frosting.
Frosting:
1 8-oz package cream cheese
1 stick butter
4 Tablespoons cream of coconut
1 teaspoon vanilla
a pinch of salt
4 cups powdered sugar
sweetened, flaked coconut
Beat cream cheese and butter until smooth. Add cream of coconut, vanilla, salt, and powdered sugar and whip until smooth. Frost cupcakes and sprinkle tops with coconut flakes. This frosting is a little soft, but if you store the cupcakes in the refrigerator after frosting them, it helps a lot.