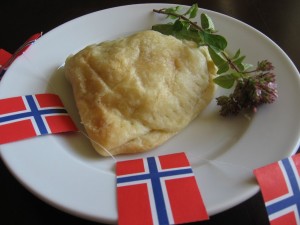 You're probably thinking right off the bat, "Hey, that's the Norwegian flag. What gives?" Well, here's the whole story. First, one of the most popular foods at the annual Junction City Scandinavian Festival is the Swedish Meat Pie. If you want to replicate them once you get home, however, you'll probably find that there aren't a lot of recipes out there for "Swedish Meat Pies." At least not authentic ones. The only recipes I have found for them are ones that people came up with because they couldn't find a recipe anywhere. So I'm not sure if they even eat these things in Sweden. Second, I am of Norwegian descent, not Swedish, so I had Norwegian flags laying around, not Swedish flags. On to the recipe. I raved about the Swedish Meat Pies at the festival to my family for an entire year, so when my mom finally ate one, she found it disappointing. She even went so far as to dip hers in ketchup! When I decided to make these at home, I knew I needed to step things up a little. Consequently, I added garlic for flavor and carrots for color. My husband and I both thought they were divine and BETTER than the scandi-fest pies. And we LOVE the scandi-fest pies, so that is really saying something!
Swedish Meat Pies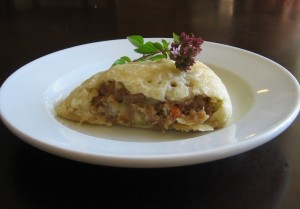 Crust:
1 1/2 cups flour
9 Tablespoons sour cream
1 1/2 sticks butter
a generous pinch of salt
Beat butter and sour cream until well-blended. Add flour and salt and mix until combined. Add more flour if needed. This should be a soft, springy dough. Remove from bowl, wrap in plastic wrap, and refrigerate until filling is ready.
Filling:
2 Tablespoons olive oil
1 small onion, finely chopped
2 stalks celery, finely chopped
1 clove garlic, minced
1 carrot, shredded or finely chopped
2 cups frozen hash browns
1 lb ground beef (I use ground turkey)
pepper
1/2 teaspoons salt
pinch of nutmeg
pinch of allspice
scant 2 cups shredded cheddar cheese
In a large skillet, saute onion, celery, carrots, and garlic in olive oil over medium heat for about 5 minutes. Add hash browns and continue cooking until vegetables start to soften, 5 to 10 more minutes. Add ground beef and all seasonings. Cook until meat is no longer pink. Remove from heat and add cheese, stirring until cheese is melted. While filling is cooling, remove crust from refrigerator and divide into 6 equal portions. Working on a well-floured surface, roll each portion out into a circle, about 8 inches across and pie-crust thin. Working quickly, place a few heaping spoonfuls of filling on one side of each circle, wet the edges of the dough slightly with water, and fold to close. Press the seams shut with a fork and poke a few holes in each pie to allow steam to escape. Using a large spatula, gently place pies on a parchment-lined baking sheet, and bake at 350 for about 30 minutes.