July is National Ice Cream month, and we've been extra patriotic this summer by eating tons and tons of creamy homemade ice cream. My current favorite is this tart and tangy lemon confection from Epicurious. I first made it last year and accidentally left out a bunch of ingredients. Oops! Needless to say, when made correctly, it is dreamy and smooth, and packs a hefty citrus punch. It makes your lips pucker and your mouth water, and by the end of your first cone, all you can think about is having another!
from the June 1993 issue of Gourmet, via Epicurious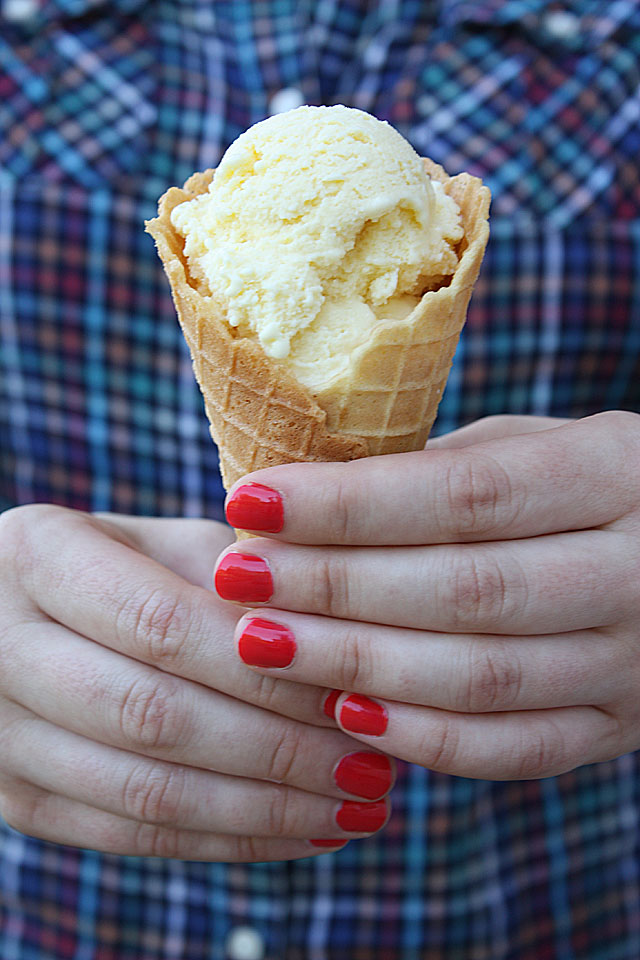 1 Tablespoon fresh lemon zest
1/2 cup fresh lemon juice
1 cup sugar
3 large eggs
2 cups half-and-half, divided
1/2 teaspoon vanilla
Combine lemon zest and juice, sugar, eggs, 1 cup half-and-half, and vanilla in a medium saucepan over medium heat. Heat, whisking constantly, until mixture just comes to a simmer.  Remove from heat and pour through a fine mesh strainer, pressing to get all of the liquid through. Cover with plastic wrap and chill until completely cooled. Add remaining 1 cup half-and-half, pour into the canister of an ice cream freezer, and freeze according to manufacturer's instructions. Makes about 1 quart.