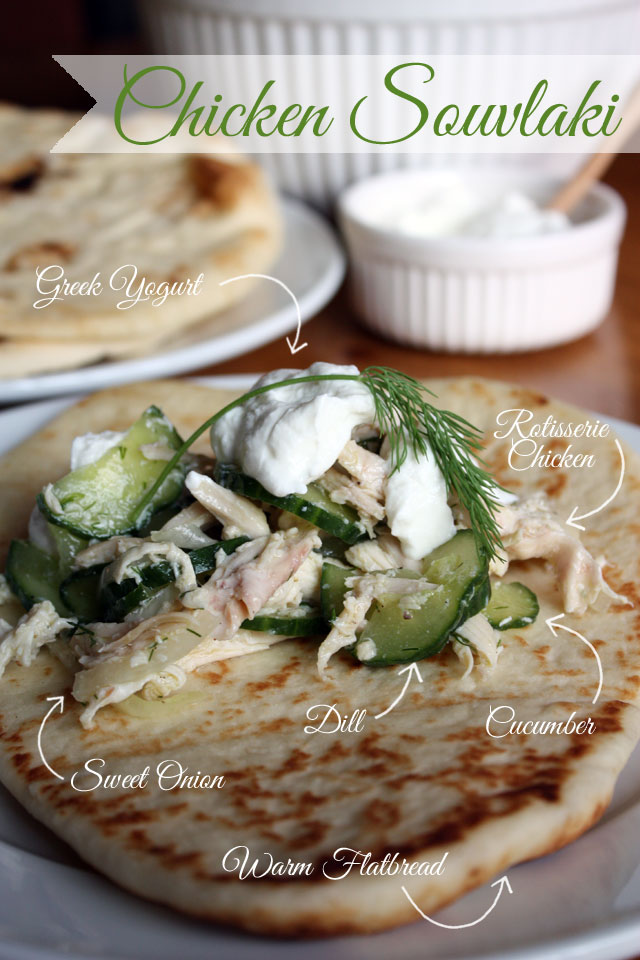 We've been visiting my little sister and her family in North Carolina for the past week, and boy is it blazing here! My poor little Pacific Northwest babies practically wilt every time we open the door and go outside to play. It doesn't usually get this hot or humid in our backyard, but even in our temperate neck of the woods, there are some summer evenings when even I don't want to fire up the stove or turn on the oven. This quick, cool Chicken Souvlaki is one of my favorite ways to beat the heat at dinner time. It is fresh and flavorful, takes just a few minutes to prepare, and doesn't require any cooking. It also makes great leftovers, but I have to admit that I have a hard time not eating the whole bowl in one sitting!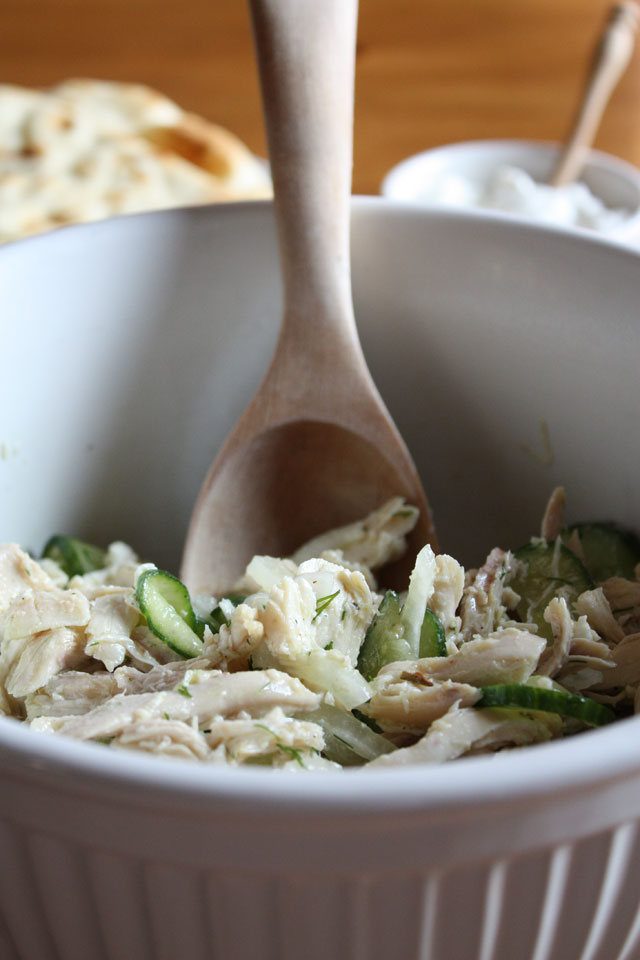 Easy Chicken Souvlaki
We've tried lots of different types of flatbread, and I like naan the best in this recipe. It is pillowy soft and deliciously chewy. We usually cut the bread into quarters and eat these like open-faced sandwiches. Lightly adapted from
Real Simple Magazine
.
Ingredients
3 Tablespoons olive oil
3 Tablespoons fresh lemon juice
¾ teaspoon kosher salt
freshly ground black pepper
1 3-lb rotisserie chicken, all meat removed and shredded
1 hothouse cucumber, cut in half length-wise and sliced thin
½ sweet onion, sliced thin
2 Tablespoons chopped fresh dill or 1 teaspoon dried dill weed
flatbread
plain Greek yogurt
Instructions
In a large bowl, combine olive oil, lemon juice, salt, and pepper. Add shredded chicken, cucumbers, onion, and dill. Cover and chill at least 1 hour. Warm flatbread in the microwave for 15-30 seconds. Spoon chicken mixture onto flatbread, top with Greek yogurt, and serve.