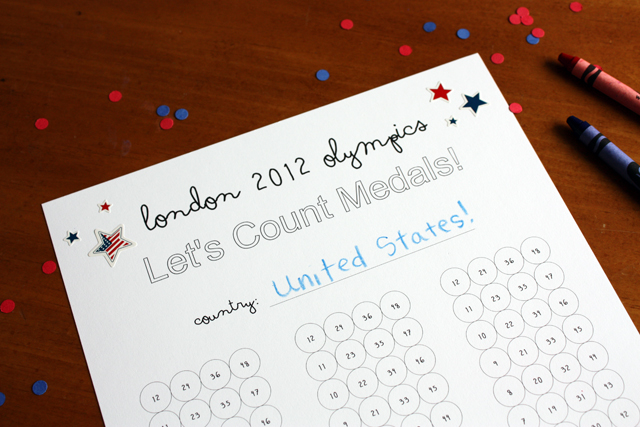 The Olympics have always been a really big deal in my family. I remember watching every event we could squeeze in during waking hours when I was growing up; we put a strip of packing tape on the floor of the living room when I was little and pretended it was a balance beam, and I'm pretty sure I wrote in my journal about how much I wanted to be Shannon Miller or Kerri Strug, or both at the same time; my sister has a collection of Wheaties boxes featuring her favorite Olympians from past games; my brother worked at the Salt Lake games, saw the infamous pairs figure skating scandal (the French judge!), and snuck onto the field for the closing ceremonies; my brother and sister flew to Beijing on a last-minute whim to see the 2008 games in the Bird's Nest; "Paul and Morgan Hamm", "Lenny Krayzelburg", and "Li Xiaoshuang" are terms that come up in everyday conversation; and I have tote bags, shirts, berets, and more from Salt Lake City, Barcelona, and everywhere in between.
I want my kids to love the Olympics as much as I do, and to have fond childhood memories of them when they're grown. So, in addition to tuning in to the opening ceremonies tonight, I made up this fun, "educational" chart for them to keep track of the US medals count every day. And yes, if they lose interest or forget to do it, Mommy will color in the little circles herself.
UPDATE: You can now download a new medals chart for the Sochi 2014 Winter Olympics! The Winter Olympics traditionally have fewer medals to be won, so you'll notice that the new printable has larger circles and fewer of them. Just FYI.