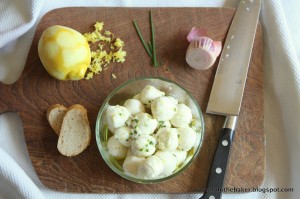 My husband and I have a favorite restaurant in town. We have never, ever taken the kids there; we try to sneak away a few times a year and enjoy a quiet meal together for our anniversary, a birthday, or to celebrate good news. For Valentine's Day this year, we failed to make reservations for dinner anywhere, and because it was in the middle of the week, finding a babysitter on a school night would have been hard anyway. So we decided to meet for lunch at our go-to place. Most tables and booths were empty, but the kitchen was a veritable hotspot of dinner preparations, and we got to sit at the counter that overlooks the kitchen and watch the staff trim steaks, chop produce, and make apple tarts. It was fun and fascinating, and they chatted with us pleasantly as they worked. My husband ordered his usual antipasto platter and devoured every last morsel–except for the marinated mozzarella, which I stole and enjoyed thoroughly. Several people in the kitchen readily gave up a basic recipe when asked, so now I can make it at home whenever I want.
Marinated Mozzarella
based on the marinated mozzarella served at Osteria Sfizio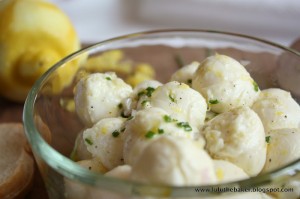 8-oz package ciliegine (cherry-sized mozzarella balls)
2 Tablespoons olive oil
freshly ground black pepper
1/4-1/2 teaspoon kosher salt
1/2 teaspoon lemon zest (1/2 a lemon)
1 teaspoon finely minced chives
1/2 teaspoon finely minced shallots
Combine all ingredients in a medium bowl, stir, and chill until ready to serve. Serve with bread, crackers, olives, etc.