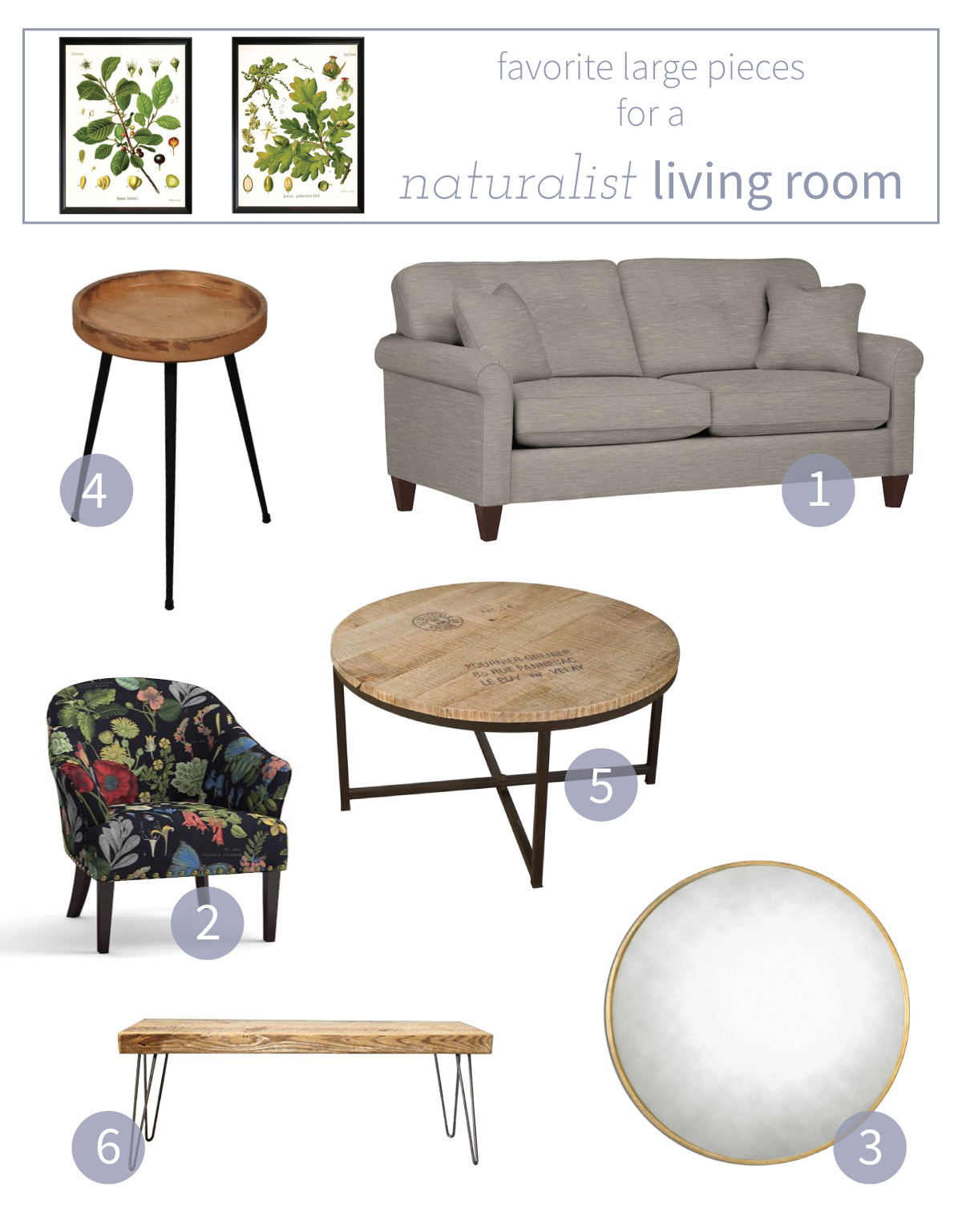 We're well over the halfway point of the One Room Challenge now, and we're putting the finishing touches on our Naturalist Living Room Makeover! Every day is like Christmas as packages arrive containing things for the room: art work, lamp shades, light fixtures, table legs, and more. If you've been following my Instagram Stories for the past few weeks, you'll know there are still lots of decisions to be made, thankfully mostly of the small variety. We have most of the big pieces in place, but the little finishing touches are a source of frustration. I can't seem to find the right lamp shades for the table and floor lamp. One set of shades was the wrong color, and the other set had the wrong kind of attachment. Silly me, I forgot to check! The piano lamp arrived today, but it didn't come with a bulb, so I have to go find one. I keep buying pillows for the couch, but can't seem to decide which I like better, and of course none of them match each other and my favorite one is the most expensive of the bunch. I ordered and put together a bench to go under the large front windows, but I don't really like it, so we're moving on to Plan B. I'm really excited to see everything get wrapped up in the next two weeks, and can't wait to show you final pictures of the room on May 11th. I just hope we can get everything done before then!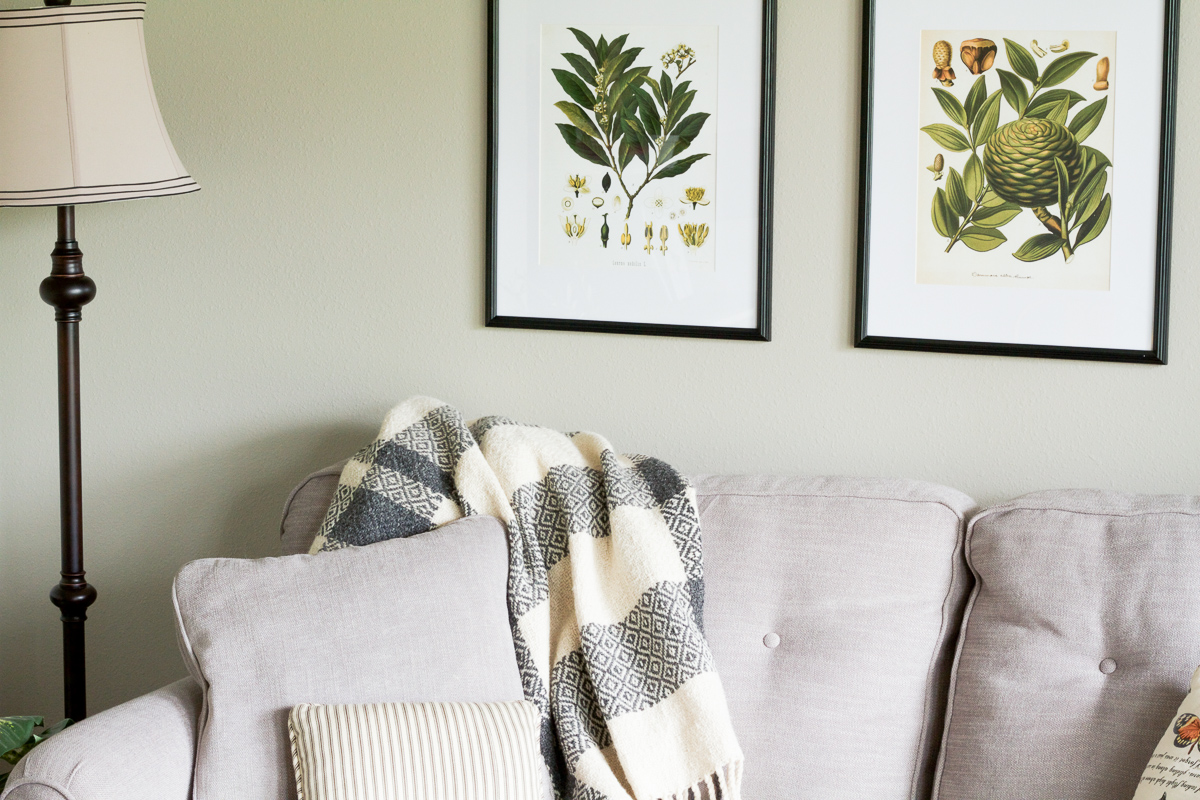 I put together a collage with some of the big pieces in the room. The couch and botanical print armchair debuted in my Week 2 ORC post. Both are super comfy and have become instant favorite sitting spots for almost every member of the family. I also mentioned in Week 2 that I thought the picture hanging over the chair needed to be replaced with the biggest mirror I could find. And, ladies and gentlemen, I was right! I splurged a little on the mirror, but I love it sooooooo much! I think it completely changes the room, and I can't wait to show it to you in a few weeks. The coffee table and accent table look great in the room. Both are super simple, with just natural wood on top of black steel or iron legs, and I love how they don't look big and clunky. As I mentioned, the bench we ordered just doesn't look right in the space. Someone on Instagram Stories mentioned that it looks like a coffee table, and maybe that's part of the problem. I think it looks too bulky. Bottom line, I don't love it and I don't think it looks good in the space or with the other pieces. So instead, we are building a bench—hooray! We happen to have a piece of reclaimed wood (left over from the open shelves in our kitchen) that's been sitting in the attic waiting to be needed. It is the right color and the right dimensions, and I think it will look great with a set of black, steel hairpin legs attached. If this collage is any indication, it will look great with the other furniture already in the room. Fingers crossed, because after that, I'm out of ideas and budget! Next week, I'll be rounding up hopefully all of the little finishing touches for the room: accent pillows, lamp shades and lighting, the too-expensive brass watering can I found online, went gaga for, and had to buy…
Many thanks once again to Linda from Calling It Home and to House Beautiful Magazine for hosting the One Room Challenge. It has been really fun to have such a tight schedule for a room. Nothing makes you get a project done quickly quite like an enormous deadline! Be sure to check out the featured One Room Challenge designers HERE and the other guest participants HERE, and catch up on my ORC posts from Week 1, Week 2, and Week 3 if you missed anything. See you next week!
SOURCES:
1. Gray Sofa: Laurel Premier Sofa in Fog from La-Z-Boy
2. Black Botanical Print Chair: Ellis Upholstered Armchair from Pottery Barn (no longer available)
3. Mirror: Uttermost Junius Round Gold 43″ Mirror
4. End Table: Round Wood Accent Table with Steel Legs
5. Coffee Table: French Stamped Mango Coffee Table
6. For collage purposes, I used a photo of this bench on Amazon
(The botanical prints are from Lettered and Lined.)

**This post contains affiliate links. You can read more about them on our policies page.**