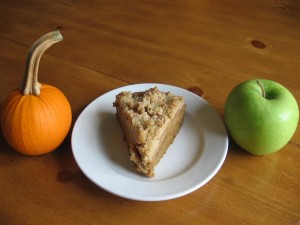 Most of the time, my husband and I feel like we are two peas in a pod. One of the things that we do not see eye to eye on is pumpkin. My husband has a May birthday. When I ask him what he wants me to make him for dessert on his birthday, he always responds with, "Pumpkin Dump." The name is gross; the fact that he wants a pumpkin dessert in May is even grosser! On Father's Day, he requests pumpkin pie. The truth is, he would eat pumpkin desserts any day of the year and be completely happy. I do not feel that way about the large, orange orb. There are pumpkin desserts that I love: pumpkin cake with cream cheese frosting; pumpkin chocolate chip cookies; pumpkin bread. But I really only want to eat them from late September to the end of the year. And there are some pumpkin desserts I can't stomach at all, like pumpkin pie. I know it is an American Classic, but the combination of the strong pumpkin flavor and the squishy, custardy texture is just not appealing to me. I will eat it with lots and lots of whipped cream, but one piece will fill my pumpkin pie quota for the entire year!
Apples, on the other hand, are just divine! I love any and all apple desserts. I don't dream of chomping on an apple all by itself, but I will eat apples sliced and dipped in peanut butter, caramel, vanilla yogurt, chocolate, white chocolate, some delicious dip my aunt makes, or any combination of the above listed dips. I will eat apples baked into pancakes, crepes, muffins, breads, spice cakes, pandowdies, pies, crumbles, or cobblers. I will eat them topped with streusel, powdered sugar, cinnamon, cream cheese frosting, or nothing at all.
So when you take a pumpkin cake and top it with lightly spiced, sauteed apples and a delicious, buttery streusel, it makes something that I crave all year…even in May!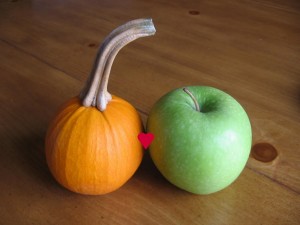 Pumpkin Apple Streusel Cake
from Bon Appetit, October 2001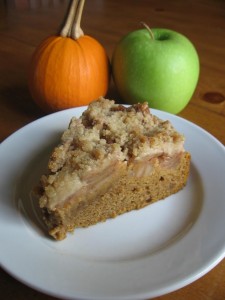 for the apples:
3 Tablespoons butter
4 cups peeled, diced Granny Smith apples
3 Tablespoons sugar
1 teaspoon cinnamon
for the cake:
1 1/2 cups flour
1 cup packed brown sugar
1 stick butter, at room temperature, cut into pieces
1/2 teaspoon salt
3/4 cup pumpkin puree
1/3 cup sour cream
2 Tablespoons sugar
2 teaspoons pumpkin pie spice
1 teaspoon baking soda
2 large eggs
To make the sauteed apples, melt butter in large skillet over medium-high heat. Add apples and cook until just golden, about 5 minutes. Add cinnamon and sugar and continue cooking until apples are tender and golden, about 3 more minutes. Set aside to cool.
Preheat oven to 350 degrees. Butter a 9-inch springform pan. Combine flour, brown sugar, butter, and salt; mix until it resembles coarse meal. Reserve 2/3 cup for the streusel topping. To the rest, add all of the remaining ingredients except the eggs and beat until just smooth. Add the eggs and mix until combined. Pour into the prepared pan, top with cooled apples, then reserved crumb topping. Bake for 1 hour 10 minutes, until a skewer inserted into the center comes out clean. Let cool before serving. Best served the day it is made. Seriously.