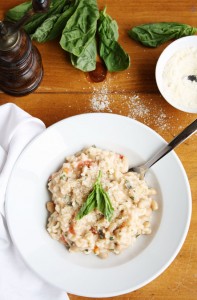 I wasn't a world-class cook in college, but somehow, a few of the recipes I discovered back then have become family favorites that I still enjoy making these many years later. I don't know exactly what possessed me to start making risotto in college–who cooks up risotto in their college apartment?!–but I've been a fan ever since. I love this recipe so much that I even made it for our first-ever dinner club get-together, a crazy, many-coursed Italian feast in our friends' backyard one beautiful July evening. Since it was our first foray into dinner club and none of us had any idea what we were doing, we had three times as much food as we could possibly eat. Everything took longer to cook than we anticipated, and the risotto sat around for at least an hour before being served, which does not make for happy risotto!
This recipe is particularly hearty thanks to the addition of creamy cannellini beans, and particularly delicious thanks to the tomatoes, basil, and parmesan cheese. It makes a terrific meatless entree when served with a salad and some delicious, crusty bread. Just make sure you serve it right away for maximum risotto happiness!
adapted from an old issue of Cooking Light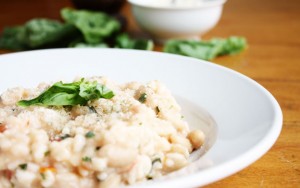 1 Tablespoon olive oil
2 teaspoons butter
1/2 cup finely chopped onion
1 1/2 cups arborio rice (or any medium grain rice)
2 14-oz cans low-sodium chicken broth
1 cup water
a splash of white wine
1 15-oz can cannellini beans, rinsed and drained
2 plum tomatoes, diced
1/4 cup grated parmesan cheese
1 Tablespoon fresh, finely chopped parsley
2 Tablespoons fresh, finely chopped basil
salt and pepper
In the bottom of a dutch oven or heavy-bottomed saucepan, heat olive oil and butter over medium heat until butter is melted. Add onion and saute 2 minutes. Add rice and saute 2 minutes more. Meanwhile, bring chicken broth and water to a boil in a small saucepan. Turn the heat under the rice to medium-low, add 1/2 cup broth mixture to the rice, and stir until all of the liquid has been absorbed. Add another 1/2 cup of broth, and stir until all of the liquid has been absorbed. Continue adding liquid and stirring until all liquid has been added. This should take about 25 minutes overall, and the rice should be almost tender. Feel free to adjust the heat in order to speed up or slow down the process. I like it to be just barely simmering. Stir in a splash of white wine (about 2 Tablespoons), and allow it to simmer for 2-4 more minutes. Add all remaining ingredients, stir, and cover. Let sit for 5 minutes until everything is heated through. Adjust salt and pepper if necessary, and serve immediately. Serves 4-6.