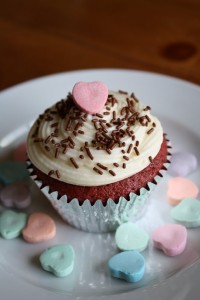 You may remember a post from just a few weeks ago involving red velvet cupcakes. The recipe, which came from Southern Cakes by Nancie McDermott, was our Cake Slice Bakers assignment for the month of January. And the cupcakes were a huge hit, not only with my own family, but with the friends I shared them with. The cupcakes were moist and tangy, with just a hint of chocolate flavor, and a deep, luscious red color. When I saw that our Sweet Melissa Sundays recipe for this week was Red Velvet Cake, I thought about skipping it, since we enjoyed the others so much just a few weeks ago. But then it occurred to me that this was the perfect opportunity to have the recipes go head-to-head, and to choose a go-to Red Velvet recipe.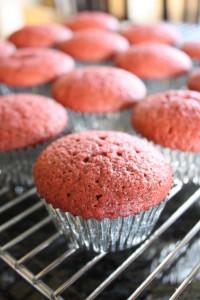 The recipe for Red Velvet Cake from the Sweet Melissa Baking Book is quite unique: it contains cinnamon. I've never had any other red velvet anything with cinnamon in it. While it was a pleasant flavor, the cinnamon made these cupcakes not very red velvet-y, in my opinion. At the same time, they weren't spicy enough to be a spice cake; they were more like a red velvet-spice cake hybrid. The cupcakes were moist and light, and they actually baked up nice and tall, quite a feat for from-scratch cupcakes. And everyone who ate one enjoyed it, and lots of people ate more than one, so they enjoyed it twice over! In the end, however, while both cupcakes were tasty, those from Southern Cakes handily beat those from The Sweet Melissa Baking Book. Every single person who tasted both thought the cupcakes from Southern Cakes were a better example of classic red velvet cake.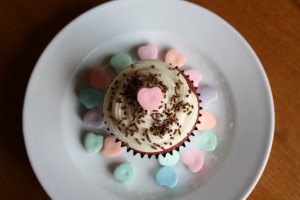 Many thanks to Rosy of Rosy Lips and Lavender for choosing this week's recipe from The Sweet Melissa Baking Book. If you are interested in the recipe, please visit Rosy's blog!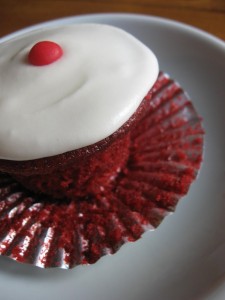 THE CHAMPION!