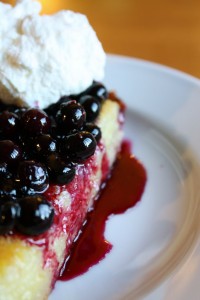 I'm not a huge fan of blueberries, so I find it extremely odd that last year, I almost chose a lemon cheesecake with blueberry topping for my first SMS pick, and this year, I did, in fact, choose a lemon pie with blueberry topping for my second SMS pick! And both recipes were delicious! Melissa Murphy states in the foreward to this recipe that, "Blueberries really need to be offset by something tart to taste their best." I think that is the key to the success of the lemon-blueberry partnership: the brightness of the lemon balances the sweetness of the blueberry to create a truly satisfying flavor that isn't too sour or too cloyingly sugary.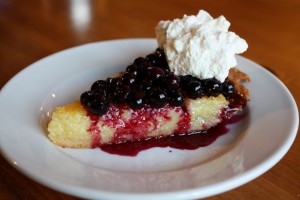 My whole family loved this pie. The consistency and flavor of the pie filling reminded us all of lemon bars. It was firm enough to hold its lovely wedge shape when cut, but creamy and tender at the same time. I chose to use a different blueberry topping than the one called for in the recipe, but didn't stray too far: I used the recipe for blueberry topping from the cheesecake appearing later in the book. When I mentioned that I'm not a huge fan of blueberries, I should put a little asterisk by that and clarify. I'm not a huge fan of raw blueberries, but I do like them cooked. I just think it makes them taste better, plain and simple. The only thing I didn't absolutely adore about this delicious pie was the crust. I went ahead and followed the recipe, which called for all-butter pie crust, even though it has twice failed me. And the third time was not the charm, unfortunately. Every time I make this crust, it shrinks significantly while baking, even with the use of pie weights, AND it slumps. Shrinkage and slumpage are a bad combo! The bottom comes up, the sides come down, and there's only about an inch of crust left to hold all of that sweet, custardy filling. Luckily, the crust conundrum is an easy problem to solve; next time, I'll simply use a regular butter/shortening recipe. Another mouth-watering and easy winner from Melissa Murphy!
Thanks for baking with me this week everybody! And check out the Sweet Melissa Sundays blogroll to see who else participated.
for the pie:
1 prebaked 10-inch piecrust made from All-Butter Pie Dough (click HERE for a recipe for Flaky Pie Dough instead)
1 1/2 cups sugar
1 Tablespoon plus 1 1/2 teaspoons cornstarch, sifted
8 Tablespoons unsalted butter, melted
3 large eggs
1 teaspoon vanilla
1/2 cup buttermilk
2 teaspoons lemon zest
2 Tablespoons fresh lemon juice
for the blueberries:
1/4 cup apricot preserves
1 Tablespoon water
1 1/2 dry pints fresh blueberries
To make the pie, preheat the oven to 350 degrees. In a large bowl, whisk together the sugar, cornstarch, butter, eggs, vanilla, buttermilk, zest, and lemon juice until smooth. Pour the buttermilk mixture into the prebaked pie shell. Place the pie plate on a cookie sheet lined with foil. Bake pie for 40 minutes, or until the crust is golden and the custard is set.
Think lemon bars.
Cool on a wire rack. Serve at room temperature or chilled, topped with blueberry topping.
To make the blueberry sauce, whisk together preserves and water in a small, heavy saucepan, and cook over medium heat until melted. Strain through a sieve, add blueberries, and stir to coat. Or, if you prefer cooked blueberries like I do, you can use this recipe for blueberry topping instead.