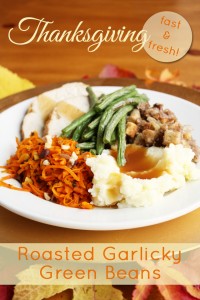 Alright folks. This is probably the easiest recipe ever, and the only way I make green beans anymore! I've never been a big fan of the traditional Thanksgiving green beans made with cream of mushroom soup and crispy onions, but I love green beans in general and think they add some much-needed color to most Thanksgiving spreads. Since these green beans are roasted in the oven with just a little olive oil and some seasoning, they keep their pleasing crunch, their beautiful green color, and their garden-fresh flavor!
Roasted Garlicky Green Beans
first made by my mom due to a serendipitous misunderstanding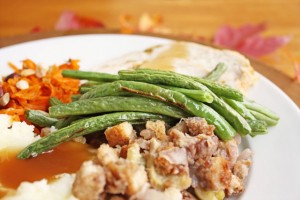 fresh green beans
olive oil
garlic salt
Preheat the oven to 500°F. Wash green beans and snap the ends off. Lay in a single layer on a large, rimmed baking sheet. Drizzle with olive oil and season generously with garlic salt. I've never over-salted them, and I am pretty liberal with the seasoning! Using your hands, gently toss the green beans until they are evenly coated with olive oil and garlic salt, then spread them back out on the baking sheet. Roast until tender-crisp, 5-10 minutes. Serve immediately.